Quad-core Acer Iconia Tab A110 priced at under $200
16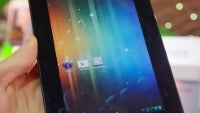 Just yesterday, we saw the
first images of the 7-inch Acer Iconia Tab A110
packed with Nvidia's Tegra 3 chip and running on the latest Android, Ice Cream Sandwich, but one thing we didn't know about it is its killer price tag - the
Iconia Tab A110 will cost you less than $200
. And by less chances are Acer means $199.99, but still that's a great price for the kind of hardware power you get here.
Look back a week ago to Nvidia announcing its $199 Kai program for affordable tablets, and Acer Iconia Tab A110 could well be the first fruit of this project.
The decent $199 tablet has been a concept that we've been hearing about since CES 2012, and actually saw first in the Amazon Kindle Fire. What many wished for, though, was Android sans Amazon's caged ecosystem, and we first got this in the form of the Samsung Galaxy Tab 2 (7.0) and now it seems that the Acer Iconia Tab A110 will follow that tradition while adding even more processing power.
We're still looking forward to a rumored Google Nexus Tablet - a device that is also said to feature a quad-core chip with vanilla Android on board.
As to the Tab A110 it comes pretty close to that. The skin on the tablet is very light and the specs are decent. Here are some of its highlights:
- 7-inch display with a resolution of 1024x600 pixels,
- Quad-core Nvidia Tegra 3 chip,
- 1 GB of RAM,
- 0.45-inch thick (11.4mm),
- 8GB of internal memory,
- micro-HDMI, -USB,
- 5MP rear camera, 2MP front (not confirmed).
How do you like the Iconia Tab A110 - would you grab one for yourself or/and your kids?