President Obama sticks to email; no tweeting for the Commander-in-Chief
25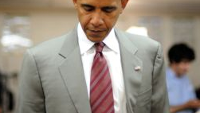 It is well-known that
President Barack Obama is a BlackBerry addict
. This addiction dates back prior to his first presidential campaign. There was talk about getting the monkey off his back, but the Commander-in-Chief says
he cannot switch to an Apple iPhone for security reasons
. Obama isn't totally without an iOS device as he was
given an Apple iPad 2 by Steve Jobs
himself.
On ABC TV's Jimmy Kimmel Live Thursday evening, the president said that he never uses Twitter and rarely composes his own texts. Referring to BlackBerry's highly-regarded email client and physical QWERTY, President Obama said, "
I don't text. I email. I still have a BlackBerry
."
While his daughters both own smartphones and send text messages, Obama said that he was barred from having a phone with the latest technology for security reasons. He isn't even allowed to own a phone that has a voice recorder installed.
During his appearance on the show, the president was asked by Kimmel if he could share Hillary Clinton's new email address with him. "
I can't share it with you. I don't think she'd want you to have it, frankly
," the president joked. Clinton, the front-runner to be the Democratic Party's presidential candidate for 2016, was discovered using a personal email account while Secretary of State. That is a no-no in Washington D.C.
Kimmel also took some time to have the president read some of the "Mean Tweets" posted on Twitter about him. You can check it out by clicking on the video below.
source:
JimmyKimmelLive
,
Reuters