Pre-orders start today online for Motorola PHOTON Q 4G LTE, priced on contract for $199.99 from Sprint
14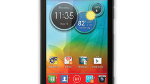 Just a handful of days ago, we told you that with Sprint reps training on the device, the
Motorola PHOTON Q 4G LTE
would be launching August 19th
. Now, Sprint has made that date official. Even better, pre-orders for the device begin right now, online. While the device can be considered a sequel to last year's surprise hit, the Motorola PHOTON Q 4G LTE is also
packing a side-sliding QWERTY handset
that is reminiscent of the keyboard on the
Motorola DROID 4
. The price will be $199.99 with a signed 2-year pact.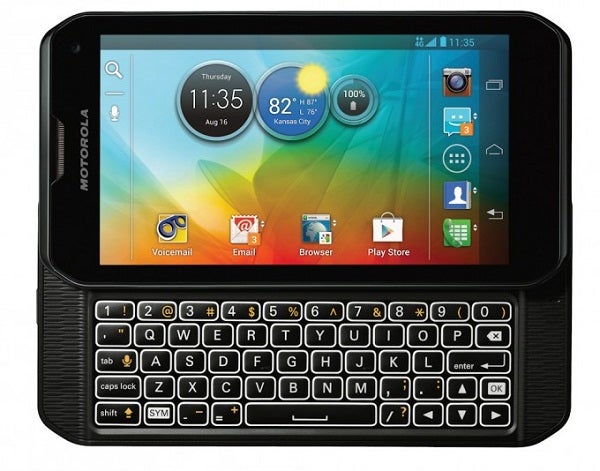 The keyboard on the Motorola PHOTON Q 4G LTE is similar to the one on the Motorola DROID 4
The Motorola PHOTON Q 4G LTE will ship with Android 4.0.4 installed and offers a 4.3 inch qHD display with pixel density of 256ppi. That matches the display on the
Motorola PHOTON 4G
. The processor has received a bump from the dual-core 1GHz Tegra 2 to the dual-core 1.5GHz processor on the new model. Both units have 1GB of RAM on board with 16GB of internal storage and a 32GB capacity microSD slot. While both models offer an 8MP camera on back, the Motorola PHOTRON Q 4G LTE has a 1.3MP front-facing camera instead of the VGA model on the original. Of course, the new model has that slide-out QWERTY. The new model offers LTE connectivity although Sprint currently offers the service in 15 markets. That number will grow throughout the next year.
The distinctive diamond-cut corners remain and for those looking for a nice mid-ranger with a physical QWERTY, the Motorola PHOTON Q 4G LTE should fit the bill.
source: Sprint via
Phandroid
Calling All QWERTY Fans! Motorola PHOTON Q 4G LTE from Sprint Available Aug. 19 for $199.99; Pre-Order Begins Today

Offering a device packed with features to provide the ideal work-life balance, Sprint (NYSE: S), the only national wireless carrier offering truly unlimited data for all phones while on the Sprint network1, today announced the Sunday, Aug. 19, availability of the first 4G LTE-enabled smartphone from Sprint with a full QWERTY keyboard and international roaming capabilities, Motorola PHOTON™ Q™ 4G LTE. Motorola PHOTON Q will cost $199.99 (excludes taxes) with a new line of service or eligible upgrade and two-year service agreement.

Motorola PHOTON Q will be available for pre-order beginning today at www.sprint.com/photonq. Customers who pre-order Motorola PHOTON Q will begin receiving their smartphone as early as two days before the device goes on sale - while supplies last.

"At Sprint, we recognize there is a large group of our customers that love the ease of a physical QWERTY keyboard," said David Owens, vice president - Product Development, Sprint. "By bringing a device like Motorola PHOTON Q into our portfolio, we are able to give these customers the option of a physical keyboard plus international roaming capabilities to stay connected while traveling abroad."

Motorola PHOTON Q features a slide out PC-like QWERTY keyboard for double-thumb efficiency. Each laser-cut key is outlined in LED lights so users can see what they're doing, even in the dark. It also has a dedicated number row for maximum typing efficiency and accuracy.

Combined with a large 4.3-inch ColorBoost™ display, Motorola PHOTON Q offers the largest screen currently available on a 4G LTE smartphone with a full QWERTY keyboard. Its 8-megapiexal rear-facing camera with 1080p capture and playback along with an HD front-facing camera produce a high-quality multimedia experience that provides the perfect blend of business and pleasure with blazing speed on the Sprint 4G LTE network2.

Additional key features on Motorola PHOTON Q include:

1.5GHz dual-core processor

Android™ 4.0.4, Ice Cream Sandwich

ULE Platinum Certification, the highest level of environmental performance recognized by sustainable requirements established by UL Environment and Sprint

SMARTACTIONS™, the free Motorola app that helps extend battery life and intelligently automates routine, everyday tasks so that smartphones can do more for consumers

Mirror mode when connected with HDMI cable (sold separately) to view images, files and movies on a larger screen, like your TV at home

Sprint ID, offering an innovative way to personalize an Android-powered smartphone with apps, widgets, ringtones and more all, in a single download

NFC support to share links, apps, YouTube™ clips and more with Android Beam™

Sprint Professional Grade designation making it business ready with full corporate security, including remote wipe, pin lock and data encryption

Motorola PHOTON Q customers can enjoy an unlimited data experience with Sprint Everything Data plans. Sprint's Everything Data plan with Any Mobile, AnytimeSM includes unlimited web, texting and calling to and from any mobile in America while on the Sprint Network, starting at just $79.99 per month for smartphones - a savings of $20 per month versus Verizon's comparable plan with unlimited talk, text and 2GB web (excludes taxes and surcharges).

Customers across the country are beginning to benefit from Network Vision - an all-new network from Sprint, which offers enhanced 3G service - with a stronger wireless signal, faster data speeds, expanded coverage and better in-building performance - and 4G LTE, with faster data speeds for data applications.
Recommended Stories