Porting Android apps to the BlackBerry PlayBook to be a piece of cake
7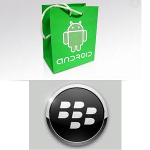 As it was
rumored
earlier, it turns out that the QNX OS found on the upcoming
BlackBerry PlayBook
will be more than compatible with the apps, developed for Android. Developers will simply have to "repackage code sign and submit" their apps for approval to be posted on BlackBerry App World, RIM's application storefront. The same goes for Java apps previously designed to run on BlackBerry OS.
But just how will you be able to run those apps on the first ever tablet computer by RIM? Why, with
emulators
of course (RIM calls them "app players"! The ported apps, although highly compatible with QNX, will still require you to install an app emulator in order to run Android or Java programs (one emulator for Android, and another one for Java). All the apps, as well as the two emulators, will be available for download on BlackBerry App World.
Of course, this doesn't mean that PlayBook users will have access to more than 200,000 Android apps and about 25,000 Java ones right from the start. No, as mentioned, devs will first have to do a few quick tweaks to their ingenious creations, and then manually submit their apps to RIM's store, one by one. However, this is still great news for end-users as it means that it would be very likely for the BlackBerry PlayBook to obtain a rich catalog of third-party apps for a relatively short period of time.
It is worth noting that
security
won't be compromised (that legendary BlackBerry security, you know) when executing any of the typically loosely-controlled Android apps or even the Java ones, since the emulators will function in a secured sandbox (means all the resources they utilize and much of what they actually do will be tightly monitored and controlled by the operating system). Obviously a lot of thinking has been done in this direction by RIM staff.
In addition, RIM announced that it will shortly release the native PlayBook SDK, which will allow devs to cook their own C/C++ applications for the platform. Not only that, but the company has also partnered with cross-platform game engine developers Ideaworks Labs and Unity Technologies, the tools of which are expected to come in handy for game studios.
The RIM BlackBerry PlayBook is currently scheduled to come out on
April 19
, but the Android and Java app emulators are expected to be available sometime in the
summer
. Sad face :(
source: RIM