Population in land of Android tripled in last 3 months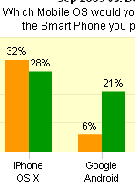 Thanks to the tremendous reception received by Android phones like the Motorola DROID and the DROID Eris, the number of cellphone owners using Android tripled in number from September through December. This is based on ChangeWave's latest research report that shows that 4% of all users have a smartphone running one of the tasty versions of Google's open source OS, up 200% since September. Back then, only 6% of those looking to buy a smartphone in the next 90 days were looking to buy a model powered by Android. That number had jumped up to 21% by last month. Three months ago, among the dominant mobile OS, the little green robot was tied for last in consumer preference. Now, it is second only to the iPhone OS which lost 4% in the ratings. The combination of more consumers favoring Android and fewer wanting the iPhoneOS has led to an increase in Android's market share.
The biggest recipients of this surge in Android's popularity has been Motorola and HTC. Since September, Motorola has seen a 12% increase in the number of consumers looking to buy a Motorola model. That is the first increase for the Schaumburg based firm in 3 years. HTC's numbers went from 5% to 9% on the release of the DROID Eris and hype about the Nexus One which was launched the month after the survey was taken.
Motorola DROID Specifications
|
Review
HTC DROID ERIS Specifications
|
Review
HTC Nexus One Specifications
|
Review
source:
ChangeWave
via
AndroidCommunity