Poll: the modular Moto Z Droid and Z Force Droid phones are coming, which Moto Mod would you get?
17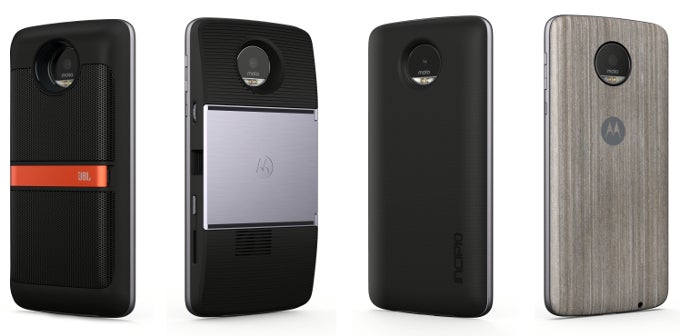 So, Lenovo is getting ready to launch the new Moto flagships — the
Moto Z Droid
and
Moto Z Force Droid
—and they will be backed up by a special squad of modules. Both smartphones have a set of contact pins on their backs, which allow them to accept snap-on-snap-off shells, called Moto Mods. These all do something different each, and there will be a
Moto Mod developer kit
available later to allow 3rd parties to jump in on the fun, too.
Due to a deal with Verizon, the two smartphones will be exclusive to that carrier for a while, under the Droid brand, but will become available to all as
Moto Z
and
Moto Z Force
later in the year. We should be getting the Droids' price and availability details very soon, but so far, we do know what Moto Mods will be available at launch. Here's a quick list:
Insta-Share Projector – can beam a 70-inch image onto nearby flat surface, has 1,100 mAh extra battery
JBL SoundBoost Speaker – a 3-Watt stereo speaker with a 1,000 mAh extra battery

Power Pack

– stylized back shell adds 2,200 mAh battery

Moto Style Shell

– slim back shell, comes in a few different finished, only cosmetical functions
The cool thing about Moto Mods is that Lenovo promised they would be compatible with future Moto Z generations, so buying one is not a one time investment. Though, we are curious to see what this means for the future of Moto Z design.
Rumor is that
these will hardly be cheap
. So, one probably won't jump in, money first, and buy all of them at once. If you were to get a Moto Z or Moto Z Force Droid, which Moto Mod would be the first one you'd buy?