Poll results: Would you be interested in a dual camera iPhone?
13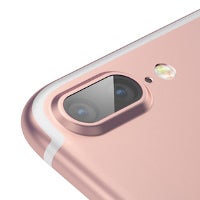 We asked you yesterday if you would be interested in an
iPhone 7 Pro
of sorts, or whatever Apple decides to name it, with a dual camera setup that might eventually bring new features like optical zoom. Well, the results seem to favor such a decision by Apple, as a quarter of our 1000+ respondents think that if anyone can make dual-camera right, it would be Apple, while in addition more than a third are interested in any new features this might bring, with only 35% telling outright they don't really care.
Famed Apple analyst Ming-Chi Kuo sent a research memo to clients not long ago that the
iPhone 7 Plus
will have an extra special version with two rear camera sensors, and since then an alleged
chassis mold of that Pro variation has appeared
, as well as
a picture of the dual camera setup itself
. Apparently, Apple has shoehorned
technology from the Israeli firm LinX
, whose acquisition it announced last year, which allows it to produce high-quality images from relatively small sensors in a multi-lens, multi-aperture configuration with a unique software algorithm. LinX wasn't shy to describe this invention as being able to produce pictures bordering on DSLR quality, especially in low-light scenarios.
iPhone 7 Plus
model will include two 12 MP camera sensors from Sony, but one of the lenses will have wider aperture than the other, like on the
LG G5
. Here, however, things get a little crazy - the analyst says that one of the camera modules will be equipped with optical image stabilization.
So far so good, we have OIS on the
6s Plus
right now, but he also claims that the other would sport 2-3x optical zoom lens. Apple actually
patented such a setup last year
, so this suggestion is not totally out of whack, and will be a true game changer in phone cameras if it materializes. When it comes to pricing and availability for this camera-centric version, whatever it gets named eventually, Ming-Chi Kuo expects it to account for 25-35% of total
iPhone 7
Plus shipments, and we'd wager to guess it would cost more than the regular single-lens model.