Dual-camera 'iPhone 7 Pro' could be Apple's next big thing
60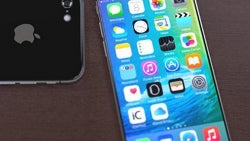 Though Apple is soon expected to
announce a 4-inch handset
to accompany the aging
iPhone 5s
, most Apple fans will be looking ahead to the upgraded editions of the
iPhone 6s
and
6s Plus
. Naturally expected to carry the 'iPhone 7' moniker, history states that the larger variant will be named the 'iPhone 7 Plus'. But according to rumors out of China, Apple may rename the phablet version, and could instead opt for 'Pro' branding.
As soon as the
iPad Pro
was
showcased last year
, it was always likely that rumors of this nature would subsequently arise. In the lead-up to any major launch, enthusiasts will often look to a company's other products for indication of what may be next. If the recent changes to the iPad line should be taken as a guide for Apple's future smartphone endeavors, then any iPhone 7 Pro would likely be considerably different (read: quite a bit better) than the standard 4.7-inch model. There has been talk that the larger iPhone 7 will be the only model to adopt
the rumored dual-camera feature
, with the 4.7-inch model apparently set to miss out. With these murmurs in mind, there could be some substance to the claims of Chinese blog
MyDrivers.
Apple has continually delivered a high-caliber point-and-shoot experience with each new iPhone. But the forthcoming dual-camera implementation, so we hear,
could verge on game-changing
. If the phablet iPhone 7 were to include this feature exclusively, then it would probably be substantial enough to warrant the 'Pro' designation alone -- aside from any other extras Apple may feel like including.
Sure, the current 6s Plus has one or two perks over its smaller cousin aside from sheer size. But with talk of this new dual-camera setup including
optical zoom and other DSLR-esque features
, the bigger iPhone 7 could be much more significant advance on the regular-sized handset.
Whether it will be called the iPhone Pro, iPhone 7 Pro or even the iPhone 7 Plus is, for now, up for debate. Since we're very much at the rumor stage, we'll have to wait and see how the drama unfolds between now and the circa September release.
Still, do let us know what you make of this new info via the comments!