Poll results: Apple iPad 2, will you get it?
28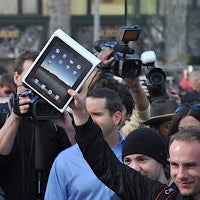 The day of the iPad 2 has come! Now youcan order the iPad 2 from Apple.com or start preparing for the lines, which are expected to form around 5pm your local time when the tablet goes on sale in Apple Stores, as well as Best Buy,Target and Wal-Mart retail stores nationwide. But judging from ourlast week's poll the lines might not be that long after all!
Last week we asked if you plan on getting the new iPad 2, which is a shockingly thin and light tablet.Actually, it's even thinner than the iPhone 4, while its 1.3 poundsof weight are unmatched by any product on the market. It also has adual-core chip and a sprinkle of Apple magic with the latestGarageBand and iMovie apps. What more could you want? 341 of you werelured by Apple's new tablet and exclaimed w00t in joy as theyprepared for today. Another 198 loved the iPad 2, but wouldrather wait to first sell their first-gen iPad before gettingthe refreshed second version. This brings the total number of potential iPad 2buyers to 539 or 29.68% of all the voters.
But hey, did we mention that theMotorola XOOM is already out there and it is getting 4G connectivity in the near future? TheHoneycomb tablet is just one of many to come and all of thoseupcoming slates match the power of Apple's tablet and some offer evenmore. And with the recent teaser by Samsung suggesting an extremely slim tablet in the works, Honeycomb might be the platform of choice formany. It certainly is for you, our readers, who in a greatmajority of 733 votes, or an overwhelming 40.36%, preferred Android, open source and Honeycomb in particular over Apple's tablet. That translates into a more than 10%advantage for Honeycomb tablets over the iPad.
In contrast, a significant 306 votes or16.85% went to people annoyed with the tablet hype, who think that agood ol' notebook is all you need. Come to think about it, this groupwould have probably been the majority around that time of last year!Things change rapidly, don't they? Finally, a notable 111 current iPadowners stated that the iPad is still far from obsolete and sawno need for an upgrade. The percentage of people considering the HP TouchPad with the exciting webOS or a smaller tablet gravitatedaround 3.5%. The only thing left now is to vote with your dollar, but don't forget to share which tablet you got in the comments below!