Samsung to launch an extremely slim 8.9-inch tablet on March 22nd?
7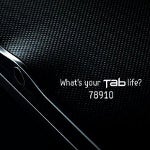 Apple's iPad 2 announcement a couple of daysago proved that thickness in a tablet matters a lot, but could it bethat Samsung took the point and now it prepares an all-new extremelyslim tablet with a screen size of 8.9 inches? Judging by the picturethe company posted on its Facebook page, the headset jack will be thethickest bulge in the tablet, while the overall thickness of its bodywill be even thinner than that. We don't have an exact measure, butjudging by the looks it may come very close to Apple's razor thin 0.34-inch(8.8mm) second-gen iPad.

Samsung's expected 8.9-incher will have the samescreen size like the one on the T-Mobile G-Slate and a slightly smallerone than the 9.7-inch screen on the iPad 2. Details about specificationsare still scarce, but March 22nd is just two weeks away, sostay tuned!
source: Samsung (Facebook) via Engadget