Best Buy to start selling iPad 2 after 5 pm on March, 11th
8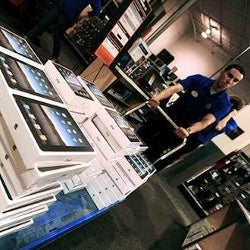 March 11th is a special dayfor every Apple fan out there, but if you have hoped that you can getthe iPad 2 earlier than Friday evening (5pm local time atApple Stores nationwide), you'll be disappointed to find out thatBest Buy - quite expectedly - will also start selling the next-gentablet after 5pm on Friday. The reason behind this is reportedly acontractual agreement with Apple. Other retail chains like Wal-Mart,Sam's Club and most recently Target are expected to also have theiPad 2 and judging from the Best Buy agreement, they will startselling the tablet after 5pm on Friday.
Has Apple ever done this before? Ourmemory reminds us of the late launch of the first generation of theiPhone, which went on sale at 6pm with Apple Stores closing for 2hours to prepare for the launch. The same goes for the 3G version ofthe original iPad which was also launched at 5pm on a Friday. IfApple repeats the same scenario, that would mean that Apple Storeswill close for a couple of hours prior to the big launch.
Unlike the original iPad, the secondgeneration of the slate wasn't made available for pre-order. That allpoints to an even bigger crowd gathering in front of locationsselling the iPad 2 and more hype generated. The reason behindthe late hour launch? Speculations range from an overwhelming demandthat Apple expects to result in shortages all the way to a specifichour picked so that employees don't miss work. What do you thinkabout the 5pm launch? Let us know in the comments below.
Thanks, Anonymous!