Platform wars: Symbian losses turned mostly into Android gains, bada outgrows Windows Phone again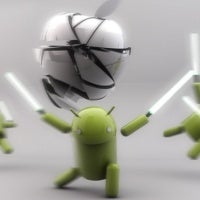 Over the first three months of 2012 some remarkable events happened - Symbian plunged in market share, and while at the same time last year Nokia's platform had a 27.7% share, this year the number was down to 8.6%. This freed up a huge part of the market to competing platforms. It was all for the taking for the iPhone, Android, Windows Phone and every other platform that dared grab a piece of the pie.
Turns out, most of it went to Android, less to iOS, some to Samsung's bada and nearly none to Windows Phone. So despite Microsoft and Nokia's bold claims about Windows Phone becoming the third ecosystem, the reality of the situation is that the platform is not doing well at all. In the first three months of the year, even Samsung's bada platform outgrew it.
Now, it's hard to say that Windows Phone is nascent - after all, it's been already more than a year and a half, but we definitely expect it to pick up the pace at least a bit after the Windows Phone 8 release this fall.
Apart from the drama for the third platform, Android is just cementing its lead as the most popular mobile platform, with a market share of 56.1%, followed by Apple's iOS with 22.9%.