Picture of Nexus 5 on Photobucket pulled
19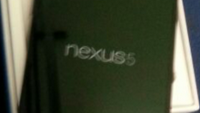 It has become a rule of thumb that when a leaked photograph of something is pulled, the subject of the snapshot was the real thing. Take a picture from photo sharing site Photobucket that allegedly showed a
Google Nexus 5
as it was taken out of the box. Besides the phone, you can see the box right next to the handset. One minute the picture was there, and the next minute it was not. That kind of thing usually happens when someone decided to take a picture of something they were not supposed to photograph. Actually, it probably is the distribution of the photograph that upset the powers that be.
The tipster said that we should be seeing the phone in the next few days which
dovetails with the November 1st date leaked by reliable source evleaks
. We could see some type of announcement tomorrow followed by the phone's actual release on Friday. With the amount of publicity that this phone has generated, fingers are being crossed by potential buyers, at Google and LG, hoping that this time there are enough phones to go around.
Meanwhile, you can check out the picture of the Nexus 5 below. Like we said, it is no longer visible at Photobucket.
Thanks, Anonymous Tipster
source:
Photobucket