Photo of the LG G6 in the wild shows its glossy back
36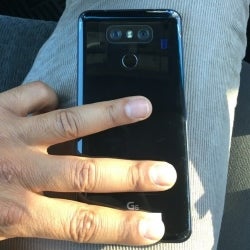 If MWC 2017 gives out a "most leaked smartphone" award, it has to go to the
LG G6
. Specs, renders, prototypes – we have it all. We are at the point where someone gets to casually whip out the unreleased smartphone while cruising in their ride and take a photo of it, just because they can. Next thing we know, people will be catching the LG
G6
running amok in their neighborhoods and stopping to take pictures. It's out of control!
While it can't be confirmed that this is the smartphone's final form, it looks a lot glossier and inviting than the prototype we saw earlier. We are pretty sure that's a glass-covered back panel, a design aspect that's been long-rumored but is only yet breaking cover. The dual camera and fingerprint scanner are known from past leaks, though.
LG is dropping the removable battery and modular design of the
LG G5
, both clever ideas that stemmed from actual customer feedback, but weren't the kind to whisk attention away from the latest Galaxy or iPhone. The small layers of complexity they added probably put off the public that's been conditioned to expect seamless operation. And LG didn't present compelling accessories to showcase the concept's possibilities.
It's now going for a sealed metal and glass-build, a formula that's still relevant but well worn-out by Samsung and Sony. We can tell that LG is offering customers things it knows they will like, but it has given up the ambition to differentiate, which made the LG G6's predecessors quite memorable.
It's hard to fault LG for that, because creating memorable smartphones comes secondary to making ones that sell. But if all the handset has to offer is somewhat conventional design and performance parity with most phones in its price range, it's simply going to get lost in the crowd. Hopefully, our pessimistic outlook will turn out to be uncalled for.
ALSO READ