Google Nexus 9 Review
99+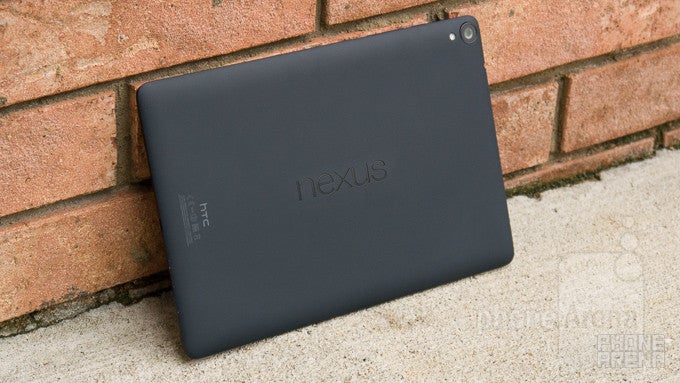 Introduction
Google's line of Nexus tablets have always been a delightful bunch, not only for the affordable cost attached to them, but also for the fact that they're normally the first to offer the most up-to-date version of Android. It all started with the original
Nexus 7
back in the summer of 2012, followed subsequently by the release of the
Nexus 10
, and then the refreshed version of the
2013 Nexus 7
. Each tablet, of course, proved that it didn't require consumers to fork over huge sums of money to pick up and own a high-performing unit. Instead, Google's line of Nexus tablets ushered in a new era for the segment – one that continues to highly competitive and budding.
Interestingly, Google has commissioned HTC to manufacture its latest tablet model in the
Google Nexus 9
. This revelation, naturally, is a surprising one considering that HTC hasn't been active in the tablet space for quite some time. In fact, the last time they released a tablet was back in 2011 – the ill received
HTC Jetstream
. After the lukewarm response HTC received from its tablets, including the
HTC Flyer
, the company seemingly hit all the brakes when it came to anything tablet related.
Thankfully, though, the Google Nexus 9 is the company's chance to become a relevant player in the market once again. Featuring Google's latest Android update, Lollipop, in conjunction with some spiffy specs and a low price point, the Nexus 9 is already shaping to become something grand for the upcoming holiday season.
The package contains:
Quick Reference Guide
Product Safety & Warranty Brochure
Wall charger
microUSB cable
Design
In keeping with the tradition, the Nexus 9 exudes a humble design that doesn't try to be too flashy.
Historically speaking, we know that HTC takes great pride when it comes to designing its products – evident by recent memorable devices like the HTC One M8. There's no kidding that they're meticulous when it comes to that, even when it comes to inexpensive priced devices. Well, seeing that the Nexus 9 follows in the same tradition of other Nexus tablets, its design favors a more humble quality.
Looking at it for the first time, it's really tough to distinguish that it's an HTC design – mainly because its design language treads on a different path from what we see from its smartphones. Going with an all-plastic body, one that has a soft touch matte finish to it, the design is no doubt clean and minimalist. Its design doesn't break any records in terms of being the skinniest or lightest, but it proves to be relatively easy to hold with one and two hands.
However, there are a couple of distracting things we feel that stands out with its design. First of all, there's a bit of hollowness to its design, which is made especially known when we tap on the back of the tablet – it just doesn't have the solid feel of something like the iPad Air 2 or Xperia Z2 Tablet. In addition, the camera lens protrudes out from the rear casing, which causes it to come in contact with whatever surface it's placed on. To be fair, though, this implementation allows the tablet to rest evenly on a flat surface – so that it doesn't wobble while typing in landscape.
Along the back, the Nexus name is emblazoned squarely in the middle – while HTC's logo is ever so discretely positioned towards the bottom (when held in portrait). Taking a peek around the tablet's trim, it features the assortment of ports and buttons. These include its power button and volume button along the right, microUSB port and microphone on the bottom, and 3.5mm headset jack on the top.
A familiar set up used by many of HTC's smartphones, the Nexus 9 is outfitted with two front-firing speakers with HTC BoomSound – so it's safe to presume that it'll carry on HTC's reputation of offering quality sound. Although it's tough to make out, especially when it blends in with the black color of the screen's bezel, there's actually an LED light placed in the middle-bottom area of the tablet.
Being a budget-conscious tablet has its perks, like in being easy on the pockets, but at the same time, it doesn't have the same high flying set of arsenal that accompanies some of its rivals. In particular, it doesn't have a water-resistant construction, there's no expandable storage, and you can't use it as a universal remote to change the channel on your TV. Just saying!
Display
Details are nice, but it's pretty amazing that it's almost spot-on with its color reproduction. All the qualities are impressive!The Nexus 9 features 8.9-inch 1536 x 2048 IPS LCD display. Visually, its size and resolution gives it a respectable pixel density count of 288 ppi, which is an effective thing to make out miniscule text in the web browser without much squinting. That's certainly isn't as striking as the Samsung Galaxy Tab S 8.4's display per se, with its class-leading tally of 359 ppi, but it's nonetheless pleasant for everyday things.
What's most surprising, however, is how the screen bears so many high-quality characteristics. Case in point, its potent brightness of 453 nits, excellent 2.17 gamma, great 6942 K color temperature, and its ability to accurately reproduce colors. With the latter, it impressively hits all of the target marks for each color gradient – easily besting its contemporaries in the iPad Air 2 and Galaxy Tab S 8.4! At the same time, it's still easy to view outdoors with the sun out.
Benchmarks aside, the screen looks good! From its great detail, to its visibility, and its precise color reproduction, the screen of the Nexus 9 might appear ordinary from a cursory look, but beyond that, it packs all of the rich essentials in giving it some strong visual qualities that we appreciate.
Display measurements and quality
Recommended Stories