Pebble smartwatch sells out: $10 million funding, 85,000 units booked
6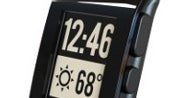 Kickstarter is an amazing place, and if you doubted it just take a look at the
Pebble smartwatch
- an amazing smart watch project that attracted $10 million in crowd-sourced funding and sold out in 85,000 units. Quickly after the company realized it was getting huge support it improved its project with better water resistance, and even added Bluetooth 4.0 support, but it's still amazing to see this kind of support for something that is not even real yet.
The Pebble smart watch will work with both iOS 5 and higher, and Android 2.3+. It's a neatly design watch with a 1.26" 144 x 168-pixel monochrome ePaper screen with a backlight. A free software update will add support for Bluetooth and EDR. All controls are performed via four buttons located on the sides of the watch.
But what can really make Pebble stand out is developer support. Some software companies have already said that they will develop for the watch, but it's crucial whether others will join to actually extend the functionality to make it the sci-fi product we all want to see. Pebble creators on their side are providing an SDK to third-party developers to facilitate the project.
The Pebble watch goes up for pre-order on May 18th with a price tag of $150, and the smartwatches are set to arrive on people's wrists sometime in September.