Pebble Steel announced: a sylish smartwatch for $249
12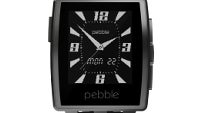 After creating what could be considered the world's first successful smartwatch, Pebble has used this year's CES as stage to announce the next step in the evolution of its product. And a logical step it is, might we add. Meet the Pebble Steel - a smartwatch that actually looks good!
The Pebble Steel is bringing you all the features that we've come to enjoy from the original Pebble, but replaces the bland design with a fashionable stainless steel body. Even better, the smartwatch is going to come bundled with an extra strap, made of leather - so if you prefer leather watch straps - the Pebble Steel has you covered.
On the software side of things, the Pebble Steel is going to arrive with the new, centralized Pebble appstore - a one-stop-shop for Pebble apps, games, watchfaces and what not. The store should be online by the end of this month, and by the looks of it, the original Pebble smartwatch will also be supported. Meanwhile, the company has announced that a bunch of popular services will soon launch their apps for Pebble, including Pandora, ESPN, and Mercedes-Benz.
The alluring Pebble Steel smartwatch will be available in two colors: Brushed Stainless Steel and Black Matte (both coming with an additional, leather strap). As excited as we are for this new wearable gadget, we also have to admit that the pricing is a bit steep, as the Steel is going to cost $249. That said, you can pre-order one from the company's website (the source link below) right now, with shipments starting on January 28.
source:
Pebble