New Pebble Time smartwatch unveiled on Kickstarter, storms past $500,000 goal in minutes
25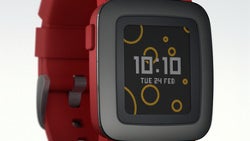 The new Pebble Time smartwatch has officially broken cover, and it comes with a brand new Timeline user interface and a color screen, while preserving the same 7-day battery life.
The big news about the Pebble Time is clearly the gorgeous new timeline UI, adorned with awesome animations and looking much faster and more responsive than the original Pebble interface. Luckily, the same interface is in the process of coming to the current Pebble and Pebble Steel smartwatches.
The other big new addition is that of a microphone in the Pebble Time. This allows you to leave short voice mails, which is a neat feature to have, but keep in mind that Pebble is not advertizing the smartwatch as a phone replacement.
Design
The new Pebble Time has become thinner and lighter as well. Speaking in numbers, the Pebble Time body measure 9.5mm (0.37"), some 20% less of thickness when compared with the original Pebble. At the same time, it keeps a fairly toy-ish plastic appearance (the bezel is made of metal, though). One thing is clear from the onset: this which is a far-cry from the visual style of most popular traditional wristwatches. There is a slight curve that follows the natural shape of the hand and is there for a more comfortable fit.
It is also protected from the impact of water and you can swim or surf with it (but it's not a good idea to dive or spend too long underwater with it). The screen is protected with scratch-resistant Gorilla Glass.
Bands
Luckily, the new Pebble Time supports all standard 22mm bands. The standard retail box will come with a soft silicone band, but you can swap it for something more stylish easily, and the company even shows how quick and effortless the process is in a GIF.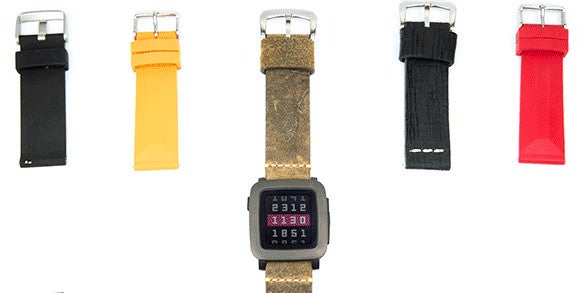 New Timeline interface and apps
First, it's worth saying that all of the more than 6,500 Pebble apps and watchfaces will be available on the new Pebble Time.
Luckily, you will now be able to navigate between apps and watchfaces much easier with the new Timeline user interface where you click on the top key to go back in time, on the middle key to go to the current moment, and on the bottom key to go to see future appointments and events. All of that is decorated with plentiful neat animations and seems to run much faster and smoother than before.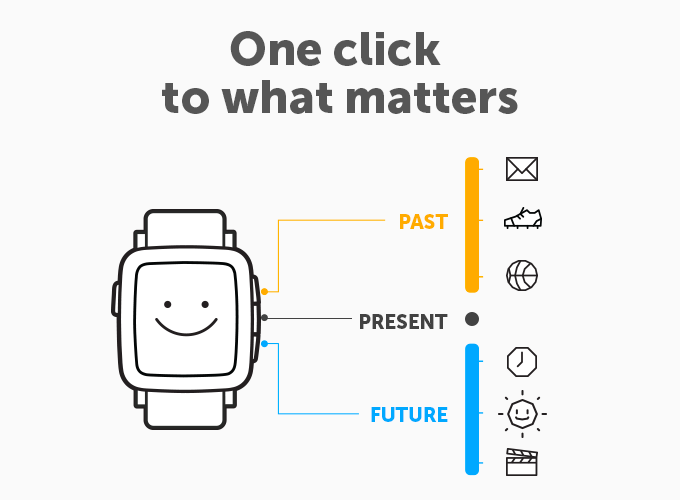 Pebble Time price and release date
The new Pebble Time release date is set for May 2015, and early Kickstarter backers will have the honor of being the first people to receive their new watches. Price is set at $159 for early birds, while regular MSRP stands at $199.