Patent that Apple used in recent trial against Samsung, found to be invalid by USPTO
49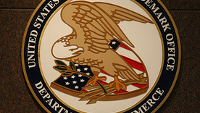 Samsung filed paperwork aimed at Judge Lucy Koh, to inform her that the USPTO has rejected Apple's claim to U.S. Patent No. 8,074,172. That patent deals with predictive text input, and Apple claimed in the latest trial with Samsung, that the latter had infringed on it. To be more specific, claim 18 of the '172 patent was rejected by the agency, due to prior art.
It doesn't take a rocket scientist to figure out that an infringement verdict on an invalid patent, isn't worth the price of the ink that the decision was written with. As a result,
the $119.6 million verdict won by Apple
in the second patent trial against Samsung, could be reduced. After all, the jury did agree with Apple and ruled that Samsung had infringed on that patent.
Earlier this week, Apple and Samsung agreed to
halt all patent battles between the two tech titans, outside of the U.S.
Sammy's filing might hasten some sort of settlement inside the States.
source:
Scribd
via
FossPatents
>