Apple and Samsung end their patent battles outside the U.S.
26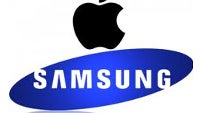 Quick. Look outside the window. See any pigs flying? The reason we ask, is that Samsung and Apple have officially announced that they are ending all patent battles between the two rivals, outside of the U.S. That eliminates legal action between the two tech titans in Australia, Japan, South Korea, Germany, Netherlands, the U.K., France and Italy.
This could be the first step toward an agreement that will end years of patent battles between the two. Earlier this year,
Apple was awarded $930 million for the first U.S. patent suit
from 2012. The second U.S. suit, which ended this past May,
resulted in an award for Apple in the amount of $119.6 million
. Samsung picked up a jury award of $158,400.
In February,
head-to-head meetings between Apple CEO Tim Cook and Samsung mobile chief Shin Jong-Kyun
, held in an attempt to reach a settlement before the second U.S. patent trial, did not
lead anywhere. Apple and Samsung do happen to be business partners. Samsung is believed to be
manufacturing the upcoming Apple A9 chip
. The company held the job of producing the Ax for years, until
Apple decided to switch to TSMC for the A8,
because of the legal battles between itself and Samsung. Samsung is also responsible for
some of the glass employed on Apple's iPad tablets
.
One legal expert, Villanova law professor Michael Risch, said that both Samsung and Apple apparently decided that the mixed results that they were getting in overseas court battles were not worth the money or effort to continue them. He also pointed out that since there was no cross-licensing deal announced, this could just be a breather before the suits start up again. Risch doesn't see any end to the U.S. suits for now.
"Apple and Samsung have agreed to drop all litigation between the two companies outside the United States. This agreement does not involve any licensing arrangements, and the companies are continuing to pursue the existing cases in U.S. courts."-Apple, Samsung statement
source:
Bloomberg
Recommended Stories