​Pantech is back with a jogwheel Android, the Sky IM-100
11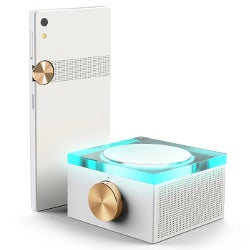 After 20 months of restructuring, two times changing hands and participating in general commotion, the beloved
Pantech
brand is back on the market with a new Android phone, the Sky IM-100. Behind that inconspicuous name hides an inconspicuous phone, at least as far as specs are concerned.
The handset has a 5.15" LCD display panel with 1080 x 1920 pixels of resolution, and is powered by a Snapdragon 430 processor. The memory situation is decent for the class, with 2 GB of RAM, and 32 GB of internal storage. The Pantech IM-100 is made out of metal, and houses its 3000 mAh battery in an edgy chassis that is 7.8mm thick, weighing in at 130g.
While the specs are nothing to dance in the rain about, Pantech couldn't resist putting a unique twist on the phone,
as usual
. As you can see in the pics, its first handset after the long hiatus features a good old-fashioned jogwheel instead of a rocker, touted as having one hundred volume precision levels. This jog, together with what looks like an oversized speaker on the back, hint at a focus on audio prowess. Indeed, together with the IM-100, Pantech is releasing a so-called Stone bluetooth speaker/wireless charger that closely matches the white or black color scheme and design of the phone. The fun part is that the wheel can also be used as a selector in the interface when pressed inwards, or so it seems from the video below.
Well, "100" reads like "back" in Korean, so that might have been the reasoning behind the title of the new Pantech phone. Moreover, it is now using the Sky brand that was previously reserved for feature phones. In any case, we are glad that Pantech is back with an interesting effort, as the firm has always been injecting
intriguing features
,
materials
and
interface solutions
in its handsets. The sales target when the phone hits Korean carriers is the modest 300, 000 units, at the equivalent of $390 a pop, and if you want it, you'd have to import. Still, do you like what you see in Pantech's grand return to the Android universe?