Did you know about that time Pantech launched a phone with a built-in mosquito repellent?
2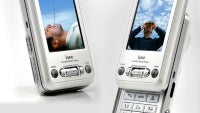 If you think 2015 brought something weird about smartphones, you don't know 2006. Nine years ago, on a date history didn't dare remember, Korean smartphone maker Pantech released a phone with a built-in mosquito repellent on SK Telecom. It must have been an awful year for mosquito bites, and as the old proverb goes,
"where the mosquito bites, there is opportunity!"
So Team Pantech listened to the voice of wisdom, and put out the gloriously titled
SK SKY IM-U100
. Ahh, don't you miss those days when brands were absent and all phones were straight up named after their model numbers?
Anyway, what was it about the IM-U100 that the airborne bloodsuckers fear so intensely? Well, it's the ultrasonic noises it generates and pumps through its speaker! They are inaudible to human ears, but absolutely gut-wrenching for the winged ectoparasites, exorcising them away from your precious blood vessels.
That aside, the IM-U100 is ye olde 2006 standard fare slider phone with a 'brilliant' 2.6-inch TFT screen, nondescript silicon of unknown origin and power ticking inside, a single 2MP camera, and an 800mAh battery that's good for three hours of straight talk. There's also a microSD card slot to stuff some mp3's on the phone before you go out and about. Also, having just WAP Internet access and only an IR port to work with, the IM-U100 seriously makes us question how we ever got by in 2006. Using a piece of technology so dated seems downright baffling from today's perspective!
But there's still something the humble IM-U100 has going on against your premium smartphone. Who you gonna call when the mosquito bite strikes? We're sorry, the fancy-schmancy Galaxy S6 or iPhone 6s you have won't do zilch! Pantech's relic, though? It will repel the winged menace while you're checking your social media updates by the river!
via
Weird Worm
Recommended Stories