Did you know that Pantech once launched a phone with a body temperature sensor?
9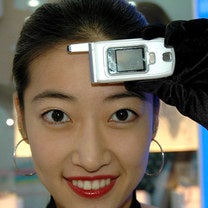 If you had to build a cell phone, how would you make it stand out of the crowd? One of the ways to achieve this is to design a handset offering something exceptional – outstanding design and build quality, innovative software features, or a unique hardware component, to give a few examples. Pantech chose the latter route when it launched the Pantech G670 back in 2004. It was a phone with, wait for it, a built-in temperature sensor.
Now, this wasn't a sensor made to measure ambient temperature. The Pantech G670 was actually capable of measuring a person's body temperature when pressed against their forehead for several seconds (which totally didn't make them look silly, we're sure). So yeah, the Pantech G670 was kind of like a doctor phone. The measured data was stored on the device's 1.8MB of memory for future reference. Further specs included a 0.3MP camera, dual color displays with 128 by 160 pixels of resolution, GPRS connectivity, and a 780 mAh battery, which made the G670 an impressive handset for its time. Alas, the Pantech G670 didn't quite take the world by storm, and that's probably why most of us haven't even heard of it.
Do you think Pantech's idea of putting a body temperature sensor on a phone was clever, dumb, or just ahead of its time? Let us know in the comments!