Palm Pre third party virtual QWERTY now ready
This article contains unofficial information.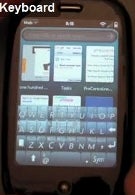 informed
you that the guys at webOS internals had developed a way to convert a virtual keyboard that came with the Pre, into a full QWERTY keyboard. The virtual keys that come with the Pre are to cover characters that aren't available on the physical sliding keyboard and change orientation from portrait to landscape. The third party developers changed the on-board virtual keys to cover things you would find on a regular keyboard and you can get it to work with just a double tap of the gesture area.
One problem that the new, virtual keyboard has is that it does not work on all areas of data entry. You can use it when entering the URL of a web site, but if the site asks for information, you will have to resort to the physical sliding QWERTY. Still, until Palm offers up a virtual keyboard of its own, this is not a bad development for Pre owners. To learn how to install the third party virtual keyboard from webOS internals, click on the source link.
Palm Pre Specifications
|
Review
source:
precentral
via
CNET