Original Motorola Moto X to get all features from the second generation model that are not hardware related
53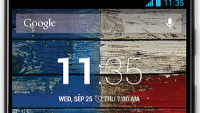 Motorola software engineer Luciano Carvalho confirmed on his Google+ page that the OG
Motorola Moto X
will have all of the features of the second gen model that are not dependent on hardware. This excludes the Best Photo feature from the phone and gallery, which depends on the new camera found on the second generation Moto X. Also excluded are a couple of features that rely on the new IR sensors.
The OG Motorola Moto X will receive the new Moto Voice features which will give users the ability to change the phrase that starts voice control. Some suggestions offered by Motorola include, "
Ok Moto X
," "
Listen up, Moto X
," and "
Hello There Moto X
". You might even try a well worn phrase like "
Watcha talkin' about, Moto?
"
After you decide what phrase you will use, look for the Moto app among your list of installed apps. Open it, click on voice, and follow the directions. Before you know it, you'll have your OG Moto X trained to open voice control with your own catchphrase.
One last note. Carvalho said on his Google+ page that Motorola has been conducting regional soak tests of Android 5.0.2. As he put it, "
That's a limited soak test roll out for some of our products in different regions of the world. The update will be pushed to a wider audience if no critical showstoppers are found by users who already received it
."
source:
+LucianoCarvalho
via
AndroidGuys