Optimus G2 in Q3 will be 'something unique' says LG, rumor hints at keys on the back and super thin frame
24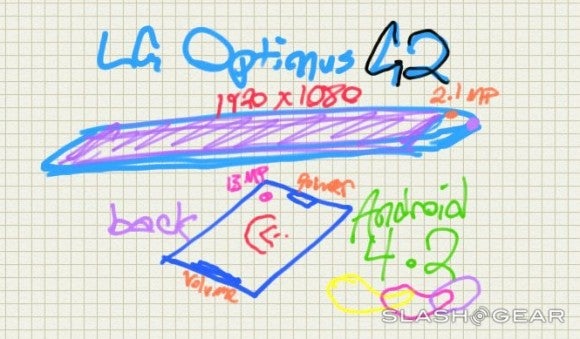 We can't remember how many times we've thought how dumb the current Android button layout underneath the display is getting, considering that we have flagship phones around the 5" mark. The most used key in Android - the back button - is put left or right down there, depending on the maker, and you always have to do some impossible thumb-stretching to hit it if you are using the phone with one hand, or use two in order to prevent the phone from falling.
Simply moving the back key on the side would do, if you have to have physical keys, or on the upper right/left, depending on whether you are a leftie, if you have on-screen buttons only, right underneath your thumb tip, is this not dawning on designers during all those focus groups?
If you look at the
LG Optimus G2
sketch drawing above, based on a new rumor, showing some pretty innovative concept in that regard. The phone's power and volume key, perhaps touch sensitive, are drawn on the back of the handset - top and bottom - and the back key is placed at the rear side, too. LG already provided an extra programmable key on the left of its
Optimus G Pro
, which you can tie to launch any app of your choosing, so we wouldn't be surprised if the concept has developed even further.
Why is LG doing that, though? It seems, if the latest rumors are any indication, that the Optimus G2 will be so
thin
that there just won't be enough of a space to comfortably situate a key on the sides. Does it mean also that LG is going to equip the LG with one of its flexible displays the Korean media hinted it will
put in devices before Samsung does
? We don't know, but all of a sudden the G2 became a pretty intriguing handset to look forward to if the rumor holds water.
Actually, speaking in an interview recently, LG's chief of mobile Won Kim
directly confirmed Q3 launch
, and also said the phone is conceived as an answer to the
Galaxy S4
and whatever Apple will be peddling:
...the LG Optimus G2 is coming in Q3, yes. We don't want to hide everything but similarly we don't want to promote everything about the G2 in advance. To some extent we have to tease the features and specifications through channels, it is somewhat premature for me to talk about the G2 in terms of specifications. G2 is going to be something different, something unique and we have needed to be very creative... There is something unnamed that is a G2.
Alright, that was cryptic enough, but on the actual naming scheme, while so far LG's Androids have fallen under the Optimus line umbrella, a company spokesperson mentioned: "
We have a naming strategy, we haven't made a final decision on naming
[yet]".