LG might ship its first flexible displays ahead of Samsung this year
43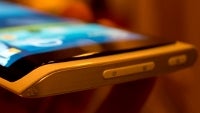 Samsung's
YOUM brand of flexible displays
already got presented in prototype devices at the CES expo back in January, but we are yet to see them in commercially available mobile gear.
It seems now that none other than LG, with which
Samsung is in a kerfuffle with over OLED display patents
, might beat it to the punch with devices employing flexible screens. LG shouted "first" already with OLED TV and 4K display introduction earlier this year, and Korea Times is now reporting that "
LG has also expanded to flexible displays, which can be twisted and bent and used for next-generation tablets and smartphones. In partnership with Korea's finance ministry, LG aims to ship its first batch of flexible displays later this year, also ahead of Samsung.
"
Now that's all fine and dandy if it happens, but we don't expect that LG will be coming up with some twisted phone designs like the rollable and bendable ones Samsung demoed in the YOUM presentation below - rather it might use the flexible screens in upcoming mobile products for their durability in a more conventional form factor.
This year's Nexus edition and the rumored
Optimus G2
would be good candidates, though we doubt LG will be achieving enough yield in time to serve the popularity of the first one.