Oppo makes its 10X lossless zoom official, unveils 5G phone; both to launch in Q2
7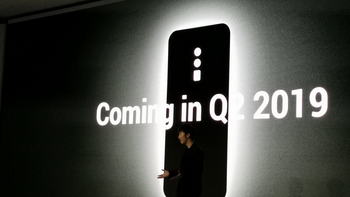 As expected,
Oppo today officially unveiled its 10X lossless zoom setup
at MWC. It is part of a triple camera setup that includes a 48MP primary camera, a 120 degree ultra wide-angle lens, and a telephoto camera. Together, they combine to cover a focal range of 16mm to 160mm. Both the primary and telephoto cameras employ OIS. The images that Oppo has revealed are impressive, and the feature will debut on an unnamed phone to be released in the second quarter. Lossless zoom means that the overall quality of the image isn't negatively impacted by zooming in on a subject.
Besides introducing the new zooming feature, Oppo discussed it's upcoming 5G handset, which has yet to acquire a name. The device will be powered by the Snapdragon 855 Mobile Platform and employ the Snapdragon X50 5G modem. The handset will be on display at MWC next week, and will also launch during the second quarter of the year.
U.S. consumers will probably be able to get their hands on 10X lossless zoom through a future OnePlus handset. Since both companies share the same Chinese based parent company, it wouldn't be far-fetched to see the feature on an upcoming OnePlus phone, say the OnePlus 7T or the OnePlus 8. However, Oppo recently made some comments about entering the U.S. market, so it is possible that the technology could debut in the states on a future Oppo handset. Another company that could offer 10X lossless zoom on a future device is Samsung. The latter recently paid $155 million to buy a company called Corephotonics, which developed much of the tech Oppo is using with this feature.

In order to keep the components needed to make the 10X lossless zoom as thin as possible,
Oppo mounted the the parts inside the phone horizontally
and uses a periscope-like tube to make it work. This layout will allow Oppo to offer the feature on a phone that won't feel like a brick in your hands. While the technology allows Oppo to offer a 10X optical zoom without any noticeable loss of quality, it also gives users a chance to employ a 20X digital zoom as well. Most handsets don't move in closer than 10X with their digital zoom option.
Besides the 10X lossless zoom, Oppo also said that some of it's phones will come with 5X lossless zoom. Yesterday, we told you that
Huawei has been teasing such a feature
for it's P30 series phones that will be unveiled on March 26th.