Opera Mobile Store is an app store for "virtually any platform"
3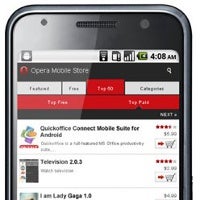 Opera is a great choice fortraffic-savvy browsing, but with the latest update it brings anall-new app store functionality powered by the Appia open applicationmarketplace available to users from more than 200 countries. TheOpera Mobile Store, as it's called, can be access right fromthe Speed Dial menu where it's featured as a link. From there you candownload both free and paid apps for phones with Android, Java,Symbian, Windows Mobile and BlackBerry on board. The current appcount stands at the impressive 140,000 in total, but it could becomeeven bigger with the inclusion of links to the App Store for iOS(currently missing).
To get relevant content you have tofirst pick your handset, then applications are filtered by operatingsystem. While this is in no way a direct competitor to the bigger appstores like the Android Marketplace, it allows for quick access toapps within the browser. Opera has launched the Opera PublisherPortal as well, giving developers a way to get a wider audiencethrough the in-store market. Opera claims that in its pre-launchstate, the Opera Mobile Store registered 15 million users in Februarywith over 700,000 downloads per day. The number is pretty telling,placing the store among the 10 most popular application marketsout there, so why not give it a run?
source: Opera