Open letter from Icahn to Cook asks Apple to tender for $50 billion of its own shares
16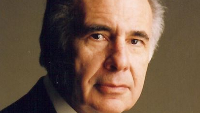 An open letter sent yesterday by investor Carl Icahn to Apple CEO Tim Cook, was made public today. The missive first praised the executive by calling him the ideal CEO for Apple. Icahn then explains why Apple is considered undervalued in his eyes. Because the investor doesn't expect this undervaluation of Apple to last long, he says that there is a limited window of opportunity that has presented itself, for Apple to tender for a large number of its own shares.
Icahn, who says in his letter that he owns 53 million shares of Apple, believes that the company is worth more than twice what it is trading for today. In fact, he puts a $203 price tag on the stock, which is currently trading at $101.50. By buying back its own stock, Apple would be retiring it, which would lower the number of outstanding shares. That would automatically raise certain metrics used by some investors, like earnings per share. Conversely, it would lower Apple's Price/Earnings (P/E) ratio making the stock seem undervalued to some mutual funds. The bottom line (which all Icahn is interested in) would be a higher stock price for Apple. Icahn promises not to sell or tender his shares to Apple, allowing the small investor to have more of his stock purchased in the buyback.
Last December, Carl Icahn managed to
have his proposal for a $50 billion share buyback listed on the proxy form for stockholders to vote on
. But before it could be voted on,
CEO Cook used a drop in the price of Apple to buy back large chunks of stock
, which shut Icahn up for a brief period of time. But the former options trader is at it again, and with today's open letter he is once again demanding that Apple buy back $50 billion of its own shares. We're pretty sure that Cook will continue to hold fast, spurning Icahn's request. In the 1980's, Apple would be paying off Icahn, buying his shares back at a premium. That was a process known as Greenmail, and no one did it better than ol' Carl. But these days, both sides will most likely sniff each other, looking like two heavyweights in the first round of a title fight. Will there be a winner? Eventually one of them will blink, but it might take a long time before that happens.
source:
CNBC