Phones with the highest screen refresh rates, and the Android games to match
4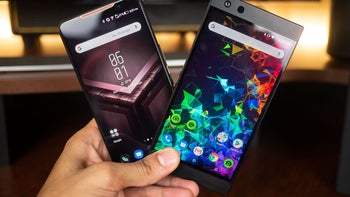 We bet you've never given the refresh rate of your smartphone display a second thought until the
OnePlus 7 Pro
came about. The up-and-coming phone maker managed to create a thing of contrasts.
On one hand, it can hit a 50% higher refresh rate than most phones which is a welcome feat for smoother animations, scrolling and so on. On the other, it manages much worse flicker rates than other phones with OLED displays at lower brightness levels which can be
tiring for sensitive eyes
.
Sharp SH-01 (2015) to Aquos R3 (2019)
Razer (2017) and Razer 2 (2018)
Unfortunately, Sharp's phones are barely present outside of Japan, that is why the first Razer phone made such a splash with the 120Hz number when it landed back in 2017 as a gamer's dream. Just for giggle, we have to mention that Razer takes advantage of Sharp's IGZO screen technology as well.
Serious gaming on a phone is an oxymoron, though, and there's barely anything out there that can take advantage of the higher refresh rate, not to mention what a battery killer the display turned out to be, yet the Razers started a veritable "game phone" trend.
Asus ROG
Nubia Red Magic 3
ZTE's sub-brand Nubia is where the company does all of its experimenting with bracelet phones and the like, that is why it came to little surprise that it also launched a gaming line dubbed Red Magic. It's the third edition of that series that counts, as it comes with Snapdragon 855 chipset, 90Hz display, and... a real cooling fan. Take that, Razer!


OnePlus 7 Pro
OnePlus 7 Pro vs Galaxy S10+
This one needs little introduction as it is available on T-Mobile in the US, and about the only thing left is to list where exactly you can take advantage of the 90Hz display. Not in videos, of course, as then the phone automatically reverts to the orthodox 60Hz to save on battery.
In the interface and while scrolling in the browser or apps, however, you have the power of 90Hz turned on by default. Games? Since the OnePlus 7 Pro defaults to 60Hz when it enters game mode to save on battery, you have to get out and manually switch the refresh rate back to 90Hz. Check out a non-exhaustive list below.
Android games with 90/120 Hz screen refresh rate support for OnePlus, Razer, ROG and Red Magic phones


Bonus: Asus ROG 2
Shortly after the second Razer phone, Asus came about with its inevitable Republic of Gamers handset. The Asus ROG, however, doesn't support a 120Hz refresh rate. Its successor, though, the ROG 2 that is supposed to be unveiled next month, will almost certainly do, judging from the Asus teaser below.