Monsters from Asia: The headless, 5.7" Sharp Aquos Xx and its high-speed camera
24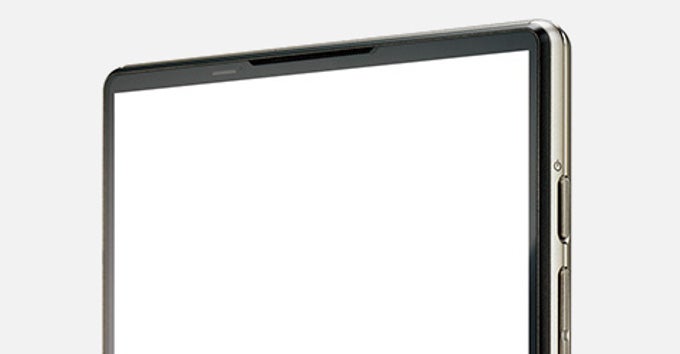 We're often asked why our fortnightly
Monsters from Asia
column is named the way it is when the devices we highlight typically come from just China, and today we have one very good example — because of phones like the Sharp Aquos Xx. Indeed, it's been a while since we last took a shine to a Japan-made smartphone (the
Fujitsu Arrows NX F-02G)
, but the new Aquos Xx proved impressive enough to feature.
So what does Sharp has in store for Japanese locals and adventurous geeks across the pond? Let's start with the display — a phablet-worthy, 5.7-incher of an LTPS make (S-CG tech, more specifically), with 1080 x 1920 pixels in total. This works out to the very decent 386 pixels per inch, and serves to cement the notion that the Japanese are a practical people who are unwilling to sacrifice battery life and performance for minor increases in detail sharpness.
Speaking of performance, we've got a 64-bit, octa-core Qualcomm Snapdragon 810 processor running the show. It's got a potent Adreno 430 GPU on board capable of powering through pretty much anything available on the market, and 3 gigs of RAM that should prove roomy enough for you to do whatever you like. Also on board is a 32GB storage chip, which you can expand on with the help of a microSD card. Turning to imaging, we're looking at a 13.1-megapixel main camera, and a 2.1-megapixel selfie snapper. The latter strikes us as unimpressive for a mid-2015 device, but the former has a few interesting tricks up its sleeve.
It's not optical stabilization we're talking about, though, nor 4K UHD video capture — even though it supports the mode. Instead, we're referring to the camera's incredible ability to playback slow motion video at the massive
2,100
frames per second. Granted, the maximum resolution available at that frame rate is FWVGA (854x480), but that hardly takes away from the achievement, especially since you can also watch footage at 1080p and
1,200
FPS. In case it isn't clear, the camera itself
doesn't
shoot video at those frame rates — it actually tops out at 210 FPS @ FWVGA, or 120 FPS @ 1080p. What the special mode does instead is intelligently supplies every available frame with up to 10 near-copies to create a striking effect of the type of slow-moes (sample below) that are typically the domain of specialized labs.
We aren't finished with the Aquos Xx, though. As is Sharp's tradition, the smartphone is extremely compact for its display size, and boast a screen-to-body ratio of about 78%,
which is impressive
. The 0.32 inches-thick (8.7 mm) device is also water- and dust-resistant (IP57-certified) and packs DTS Sound-certified speakers and a healthy, 3,000 mAh battery within. On the software side, we're looking at Android 5.0 Lollipop.
The Sharp Aquos Xx is set for release on Japan's SoftBank, though pricing information is, unfortunately, still unavailable.