Razer Phone 2 vs Asus ROG Phone
9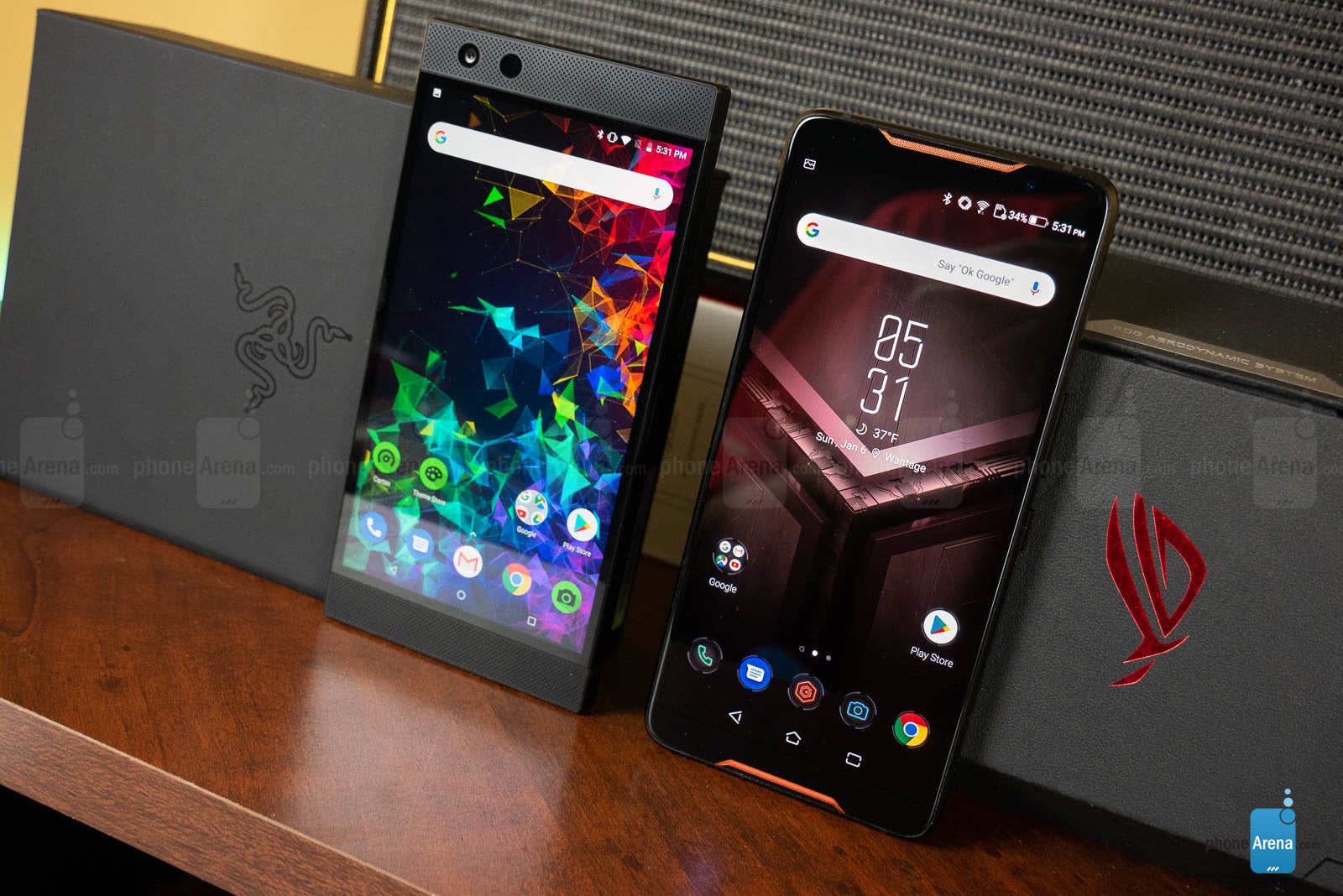 Razer versus Asus. It's the story of two computer manufacturers which one day said, "let's make a phone." While Asus made that decision quite some time ago, it only recently released its first gaming phone – the
ROG Phone
. Although the
Razer Phone 2
is Razer's second such device, it's but a sophomore facing Asus' ROG Phone, as the company has years of mobile and desktop experience behind it.
Asus has done well refining its handsets over the years, but Razer's had to adapt quick – overhauling a couple key misses from last year. We've seen the new kid on the block overtake the veterans before; is this Razer's breakthrough moment?
Design
The Razer Phone 2 and ROG Phone are clearly cut from different design cloths compared to most popular phones. While the Razer sports a boxy, rectangular aesthetic with sizable bezels at the top and bottom for stereo speakers, cameras, and mics, the ROG manages to pull off a more edge-to-edge design with its screen, stereo speakers, and camera configuration. The ROG's reddish copper speaker grilles also help to give it some flare while the rounded corners evoke a more traditional design language.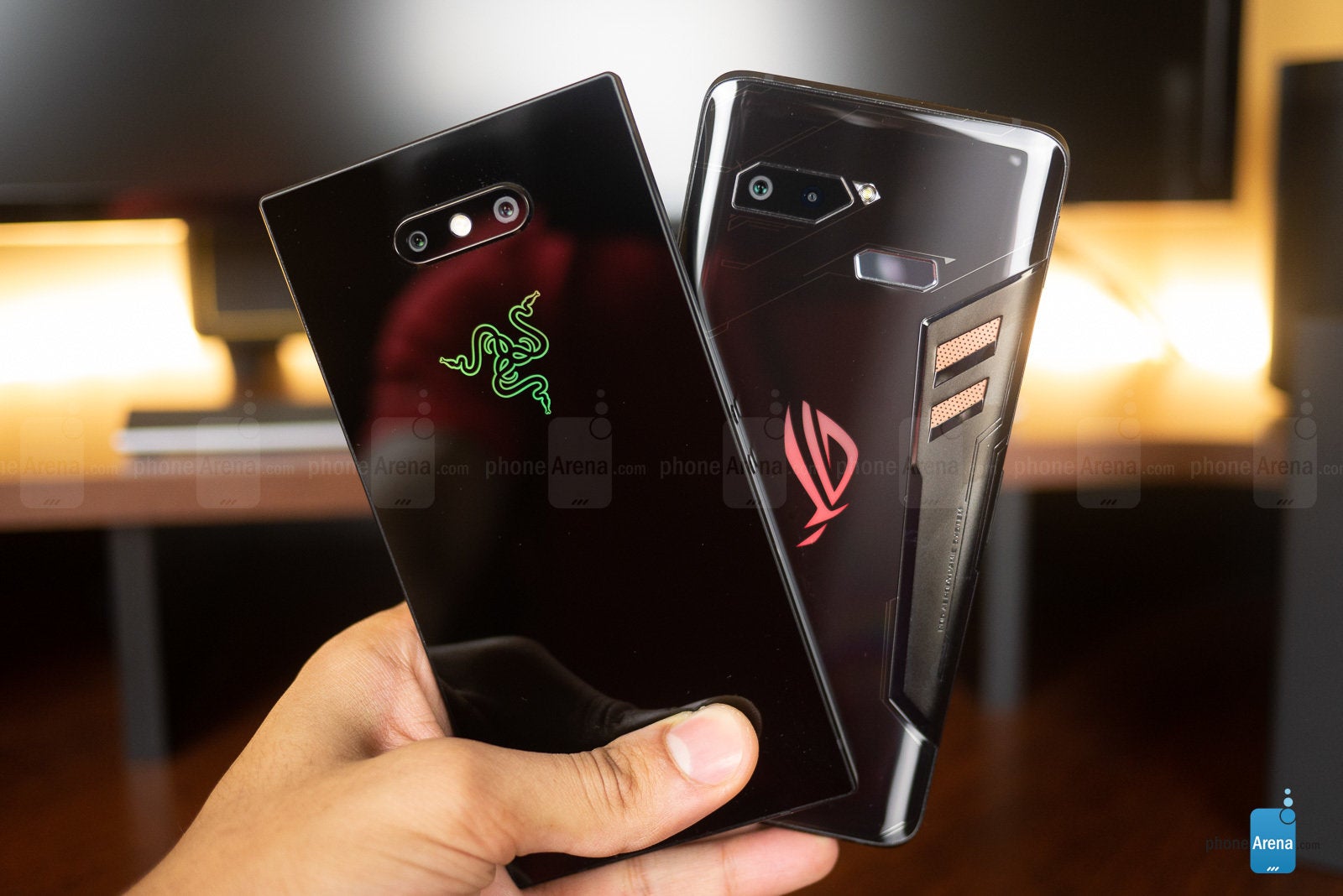 The rounded glass back also makes the ROG feel more like phones we've held before, but the look is unlike anything we've previously seen. The RGB-lit logo and decorative copper vents combine with the angular cutouts for the camera, flash, and fingerprint sensor to create a phone that truly looks like it's part of a gaming PC lineup.
The Razer Phone 2 – still highly evocative of the Nextbit Robin from which its design was appropriated – opts for a more discreet look with its fingerprint sensor tucked away inside the side-mounted power button, and its glass back, which looks like a solid slab of obsidian, interrupted only by the RGB-lit Chroma logo and center-mounted dual-camera bump. The Razer's backlit logo can also light up based on the color of apps you've received notifications from – blue for Outlook, red for Gmail, and so on – something the ROG lacks.
Asus' ROG phone, being the first of its kind for the company, appears more original in its looks, as well as its functionality thanks to gamer-centric additions like a secondary, proprietary port comprised of two USB-C ports for attaching one of the many ROG Phone accessories or charging the ROG while gaming. This is further highlighted by the inclusion of one such accessory – an RGB-lit cooling fan – in the box with it.
All that aside, these two phones have very similar weights and dimensions, though the Razer appears bigger due to its boxy design. The Razer Phone 2 also meets the IP67 standard for dust and water resistance, while the ROG Phone can only resist minor splashes.
As always, beauty is in the eye of the beholder and there's merit to both design approaches, but to the unfamiliar observer, the ROG clearly screams gaming, while the Razer Phone just screams "I'm something else!" Which of these is preferable, naturally, is up to you.
Display
The displays on these two gaming phones reveal further divergence. Spec-wise we have the ROG's 2160 x 1080 px, AMOLED display with a max refresh rate of 90Hz versus the Razer Phone's 2560 x 1440 px, IGZO LCD which reaches the ever-smooth 120Hz refresh rate.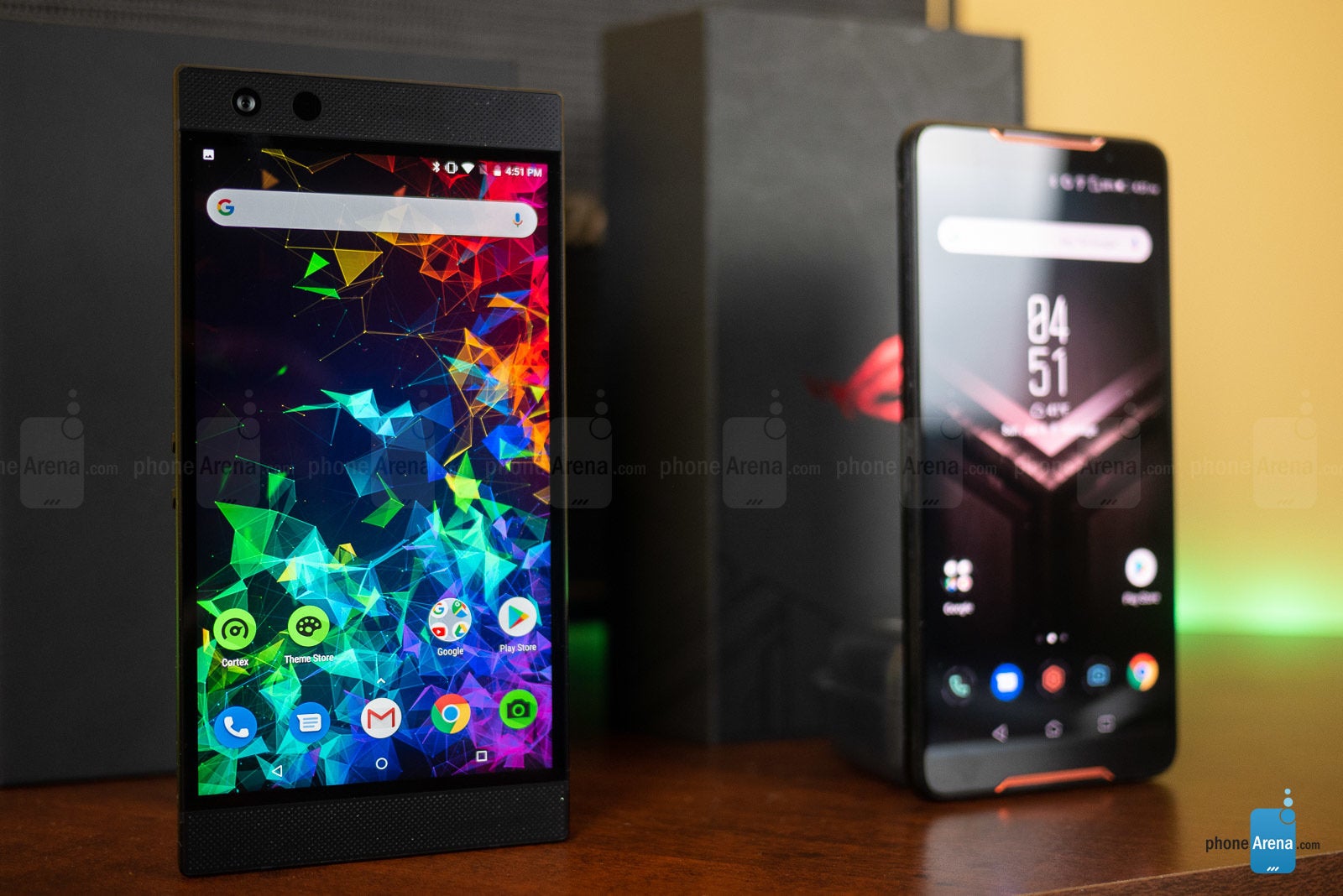 That last part about the refresh rate might have some worried, so we won't mince words. The difference between 90Hz on the ROG and 120Hz on the Razer is noticeable, and for some, this may be the reason they favor the Razer Phone 2 over the ROG. We wouldn't say it's a full-out, game-winner for the Razer Phone, though.
Gaming at 90Hz is a smoother experience on the ROG than most any other non-gaming phone, due to their lower refresh rates. 120Hz on the Razer is smoother though, and for prolonged gaming, this difference in comfort can have an appreciable impact on eye fatigue, especially during fast-paced games.
The difference in resolution is also apparent with the Razer Phone 2's display looking just a bit sharper.
While the ROG's AMOLED display portrays punchy colors and deeper, inky blacks, the Razer Phone 2's IGZO LCD proved to have more accurate colors. In fact, the Razer Phone's display is one of the most accurate we've seen on a phone. When it comes to tweaking the display to your liking, though, the ROG easily takes the cake offering a few presets as well as manual controls for color, saturation, and sharpness, as opposed to the Razer's simple triplet of presets. The differences between these three screen modes (natural, boosted, and vivid) are almost imperceptible on the Razer, which is good for color accuracy, as every one of which is highly accurate, but bad for variety and customization.
Still, the ROG isn't woefully inaccurate in its punchier color presentation, so this may come down to preference as well, but we found that the Razer Phone's highly accurate colors, mixed with the more fluid 120Hz refresh rate ultimately made the Razer Phone 2 more pleasant to look at and game on.
Display measurements and quality
Interface

and Functionality

Both the Asus ROG Phone and Razer Phone 2 ship with Android 8.1 on-board and their respective manufacturer software flavor added to the mix.
Nova Launcher and Cortex App
The Razer Phone's implementation errs more on the side of stock Android, utilizing Nova Prime Launcher as the main UI with a few green icons and apps, as well as the Razer-made Cortex app. This is where you'll find your game library along with a tab for Game Booster and another offering 120Hz games to download, among others.
Tweaking performance through Game Booster is pretty simple; you can either customize the performance settings for each app manually or for all of them at once via mode selection. This offers two modes – power saving and performance – whereas the custom mode affords you the ability to change the resolution, clock speed, frame rate, and anti-aliasing preferences on each individual app. This can either be done via a five-step slider with "more battery" and "higher performance" at opposing ends, or by selecting these values individually.
There's quite some range in the options for each of these values – processor speeds can go as low as 1.36 GHz and as high as 2.8 GHz, while minimum frame rates reach 40 fps with 120 fps being the maximum – and the near seven-hour difference in projected battery life between the "power save" and "performance" modes reflect that.
ROG UI and Game Center App
The ROG Phone's UI, like its design comes off as more custom and unique. Asus has years of ZenUI's growth and refinement driving many of the more custom experiences you'll find in ROG UI like the deeper settings menu, ZenMotion gestures, and system cleanup app, for instance. Plus, the neon-sign-like iconography and darker aesthetic just looks cooler too. Nailing a UX that looks gamer-oriented without being too tacky or plain is another example of Asus' much deeper background in the phone game.
The ROG's Game Center app offers a few, more gaming-specific features as well as a high-performance setting called "X-Mode." Much like the Razer Phone, Asus allows you to customize frame rate, processor speed, and anti-aliasing preferences on an app-by-app basis, but X-Mode can keep the ROG performing at its highest for all processes. The processor speed and frame rate can't go quite as low as the Razer Phone 2 can (2.09 GHz and 60 fps on the ROG Phone, respectively) and resolution can't be changed per app, but we'd be willing to bet that most gamers will find this level of tweaking sufficient, especially considering other features the ROG phone packs.
Game Genie and Air Triggers
Unlike the Razer Phone 2, the ROG Phone has a gaming dashboard dubbed Game Genie which is accessible during gameplay and not only offers a quick shortcut to performance tweaks, but also app integrations for fast and easy game streaming, macro creation, and Air Trigger setup. Macros are mapped to gestures you must draw on the screen, much like ZenMotion, but Air Triggers utilize their own hardware component – additional, touch-sensitive buttons.
These touch-sensitive areas are on the right side of the phone, leaving your index fingers within tapping distance when holding the ROG Phone in a landscape position. Game Genie allows you to map these two buttons to specific functions in each game by dropping virtual buttons over the on-screen ones; each unique configuration is saved for each game.
The implementation isn't perfect – the touch-sensitive areas would be easier to reach on the back of the phone, rather than the side – but an addition like this would be very welcome on the Razer Phone 2, and the easy button-mapping is something we deeply wish we had with the Razer Phone's accessories, which we'll touch on in a bit.
The wide range of performance control on the Razer Phone 2 is well-implemented and easy to use, but the ROG Phone has this, as well as a more mature, better-looking UI with more gaming-oriented features. This ROG handily beats the Razer Phone 2 in this category.
Processor

, Memory, and Performance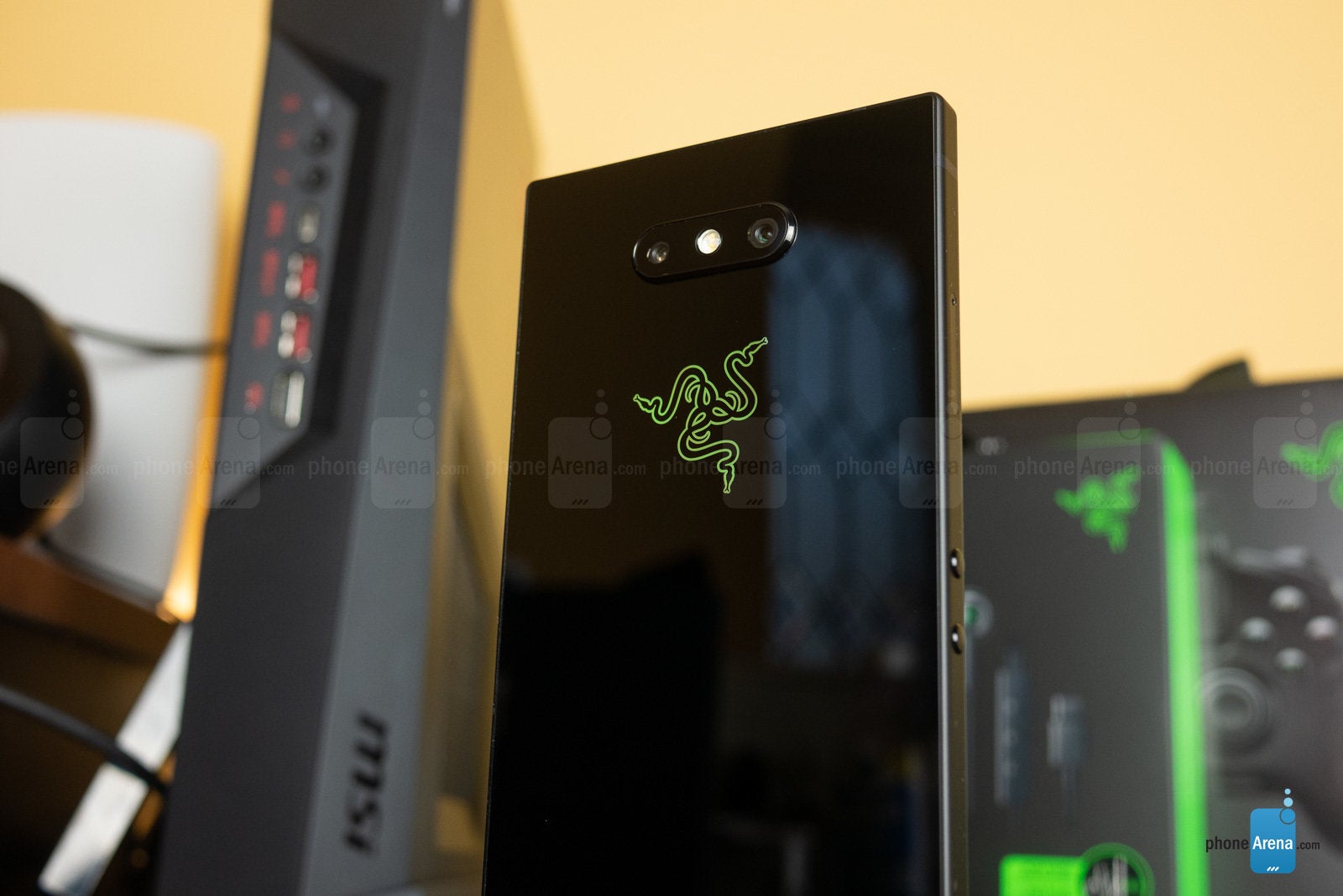 The internals may be as close as it gets between these two phones, but even here there's some notable differences.
Both run on pepped up versions of the latest Snapdragon 845 flagship processor, but the ROG is just a bit peppier on paper, maxing out at 2.96 GHz as oppose to the Razer's 2.8. Eight gigs of RAM accompany the SD845 on both of these devices, but the next big difference comes in storage. We love the ROG's starting capacity of 128 GB with the next step up being 512 GB, so the lack of a Micro SD card slot isn't that big of a deal. The Razer Phone 2, on the other hand, comes only in a 64 GB capacity but allows for microSD card expansion up to 1 TB.
In day-to-day use, it'll be next to impossible to notice any of these differences; both phones are exceptionally snappy and smooth. Skipping around from app to app and performing the requisite tasks of a daily driver show these two to be more than capable, as anticipated.
Gaming and Thermal Performance
So, who's the king where it really counts? It's actually a pretty close call.
Neither the Razer Phone 2 nor ROG Phone will let you down in with their gaming performance. We always had quick load times and smooth, stutter-free gameplay.
That said, the Razer Phone's screen always appeared smoother, with less jitter in games – even when we capped the refresh rate at 90Hz to match the ROG Phone. It seems Razer's display formula truly delivers results in comfort and performance. The ROG is by no means hard on the eyes for gaming – it's more comfortable than most any phone with a 60 Hz refresh rate – but the Razer Phone 2 looks and feels better immediately when you start gaming, and especially as your session wears on.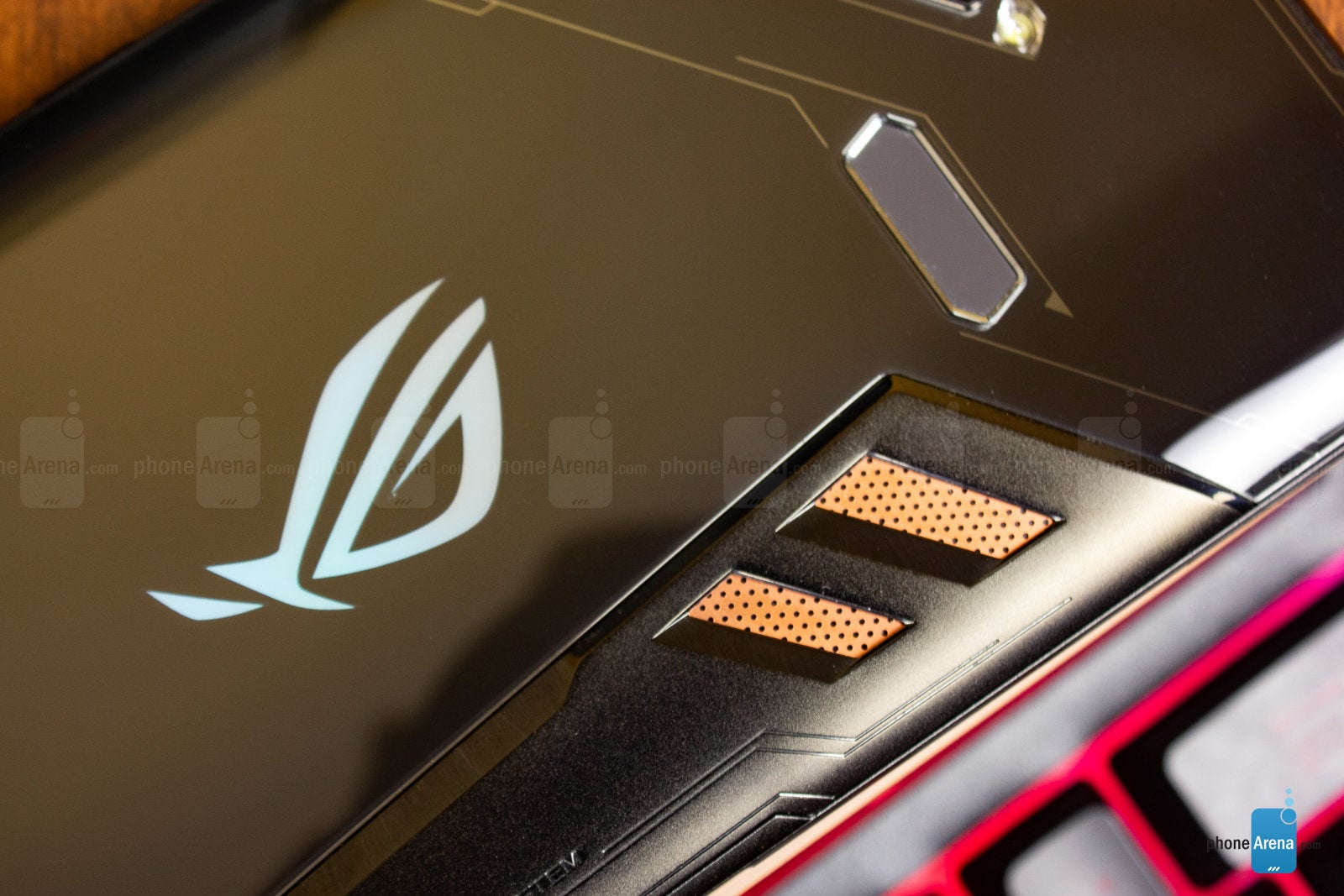 When it comes to battery life and thermal performance, they're quite evenly matched, but the ROG Phone seems a bit better at keeping its cool. Both utilize Vapor Chamber cooling and neither got hot enough to cause any discomfort or worry during our testing, even in some prolonged, intensive sessions. Checking the temperatures, though, we found the Razer Phone 2 to consistently be anywhere from five to ten degrees hotter after longer sessions, despite having almost identical battery discharge rates during the same periods. We wouldn't say this is a difference you can feel with your hands though, as they both can warm up but stay within a reasonable range.
Accessories
Gaming on phones has made leaps and bounds in becoming an experience people – many people, in fact – can deeply enjoy. Many things needed to happen to help this along, but there are still a few aspects that could use some help. Asus is well aware of this and has tackled a good amount of these shortcomings in mobile gaming with various accessories for the ROG Phone.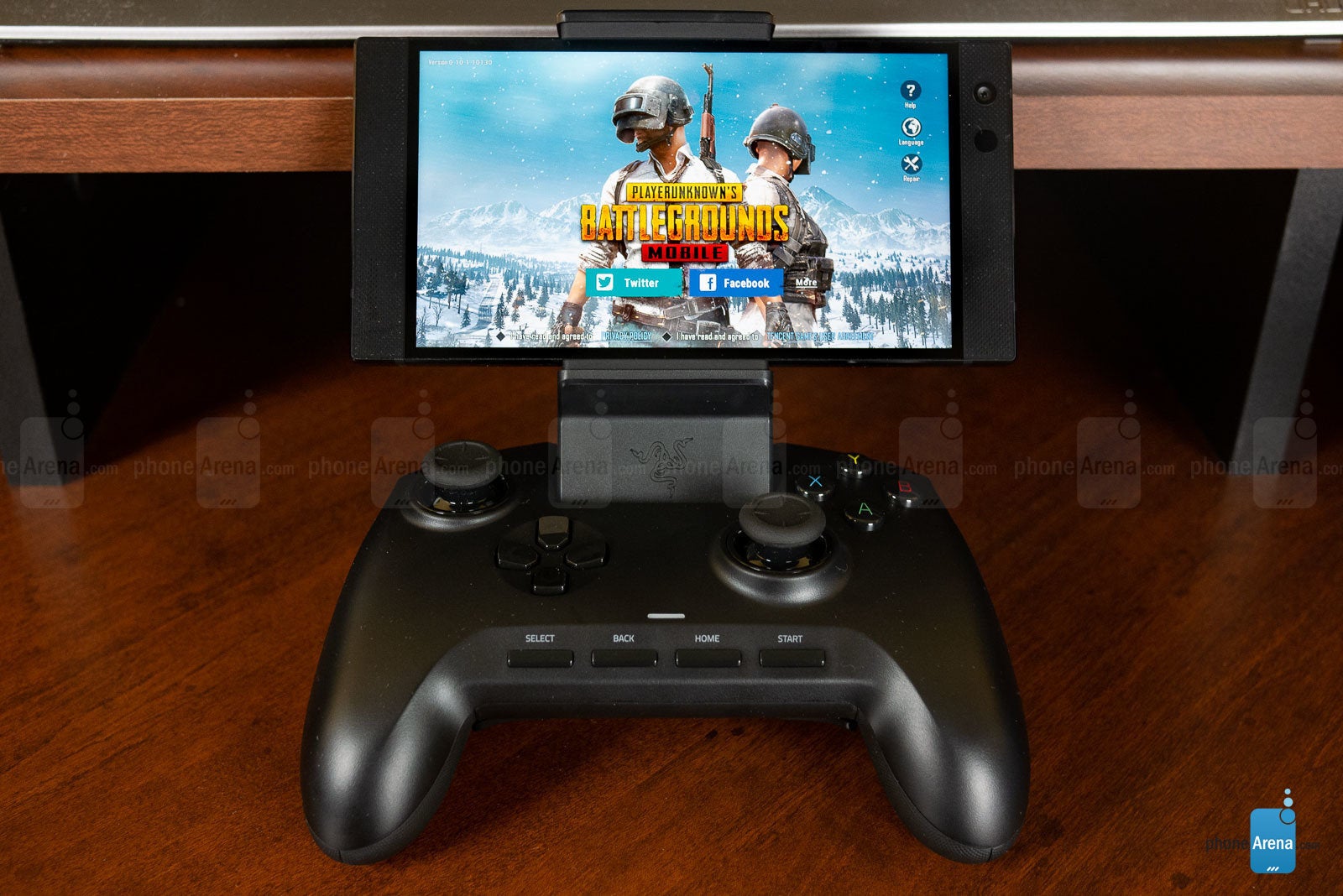 The Razer Raiju controller with the Razer Phone 2
Asus offers six different ROG Phone-specific peripherals that aid the ROG in gaming longer, cooler, more comfortably, and in more versatile, yet familiar ways – one of which even comes in the box with the phone. This is in comparison to the Razer Phone 2 which only has one accessory for gaming, sold separately.
Out of the ROG's six accessories, four are different types of docking stations with the following emphases.
Mobile Desktop Dock ($229.99)
– a dock offering 4 USB-A ports, Gigabit LAN, HDMI out, Display out, a microphone, 3.5mm headphone jack, Micro-USB, and an SD card slot. This essentially makes the ROG Phone a mini desktop computer.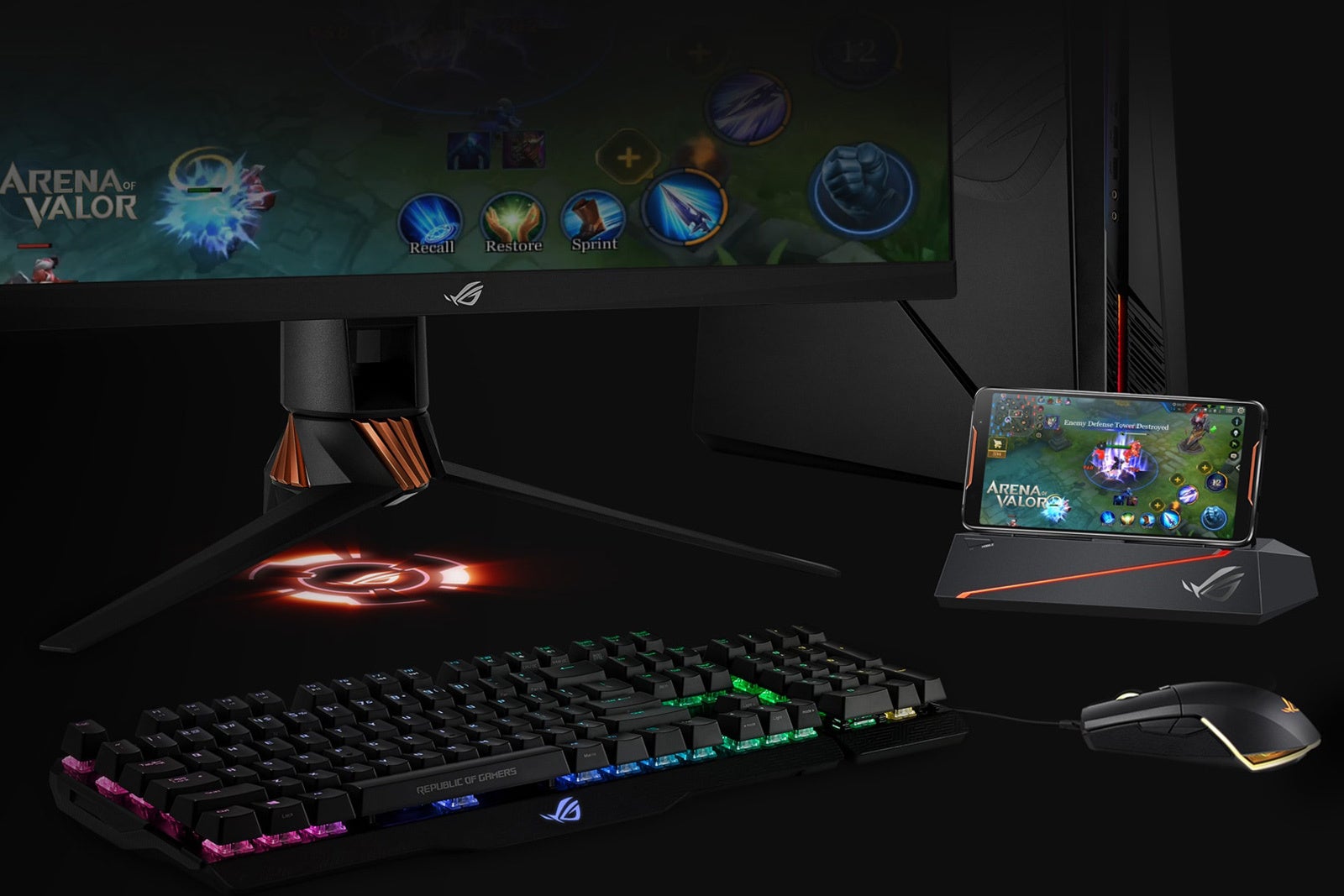 The Mobile Desktop Dock
Professional Dock ($119.99)
– a dongle which adds HDMI, two USB-A ports, and Gigabit LAN to your ROG Phone. This brings the desktop experience with a few less ports, and a few less dollars spent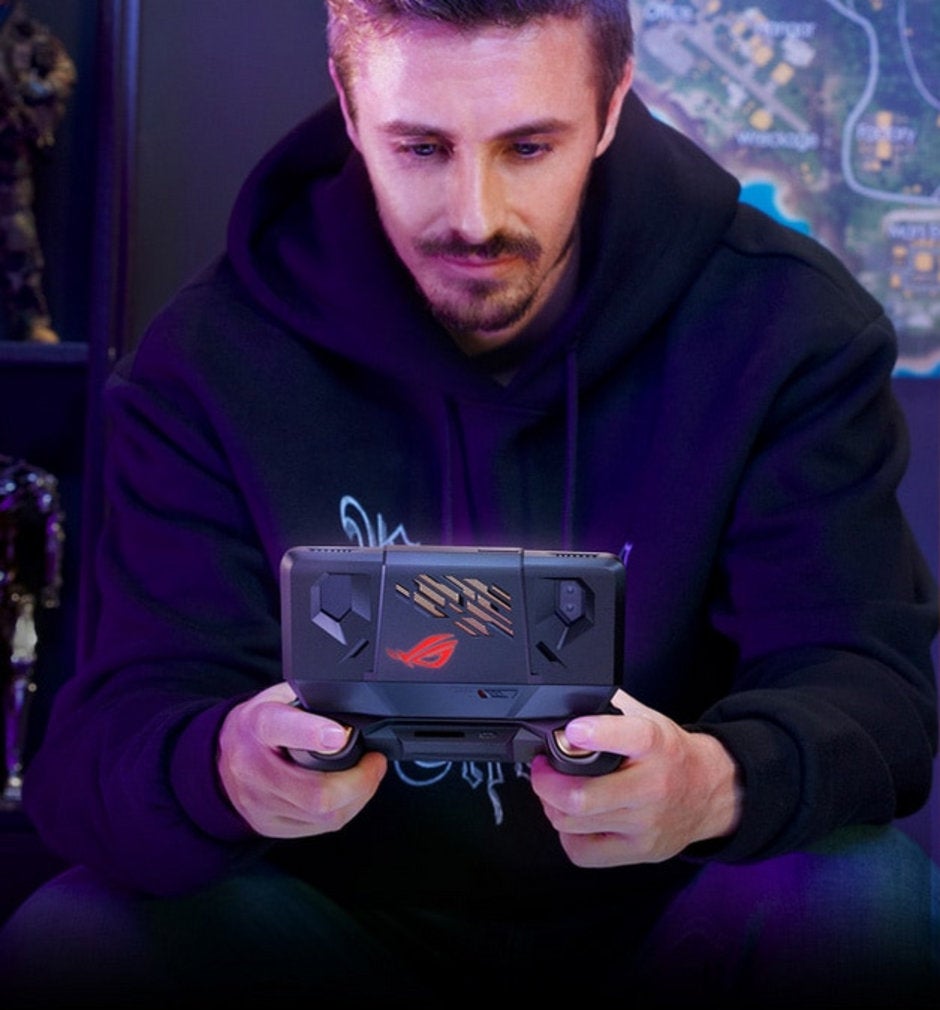 Twinview Dock ($399.99)
– a clamshell device consisting of a second, Android-powered screen with two more speakers, an additional 6,000 mAh battery, and a place to mount the ROG Phone. This gives the ROG a bit of the Nintendo DS experience, but developer support is severely lacking for interactive content, like controls or maps, on the second screen. Instead, the second screen functions more like another Android phone.
WiGig Display Dock ($329.99)
– a super low-latency wireless dock for mirroring the ROG's screen on a larger one. Paired with the Gamevice controller, the ROG displays its Nintendo Switch-like versatility.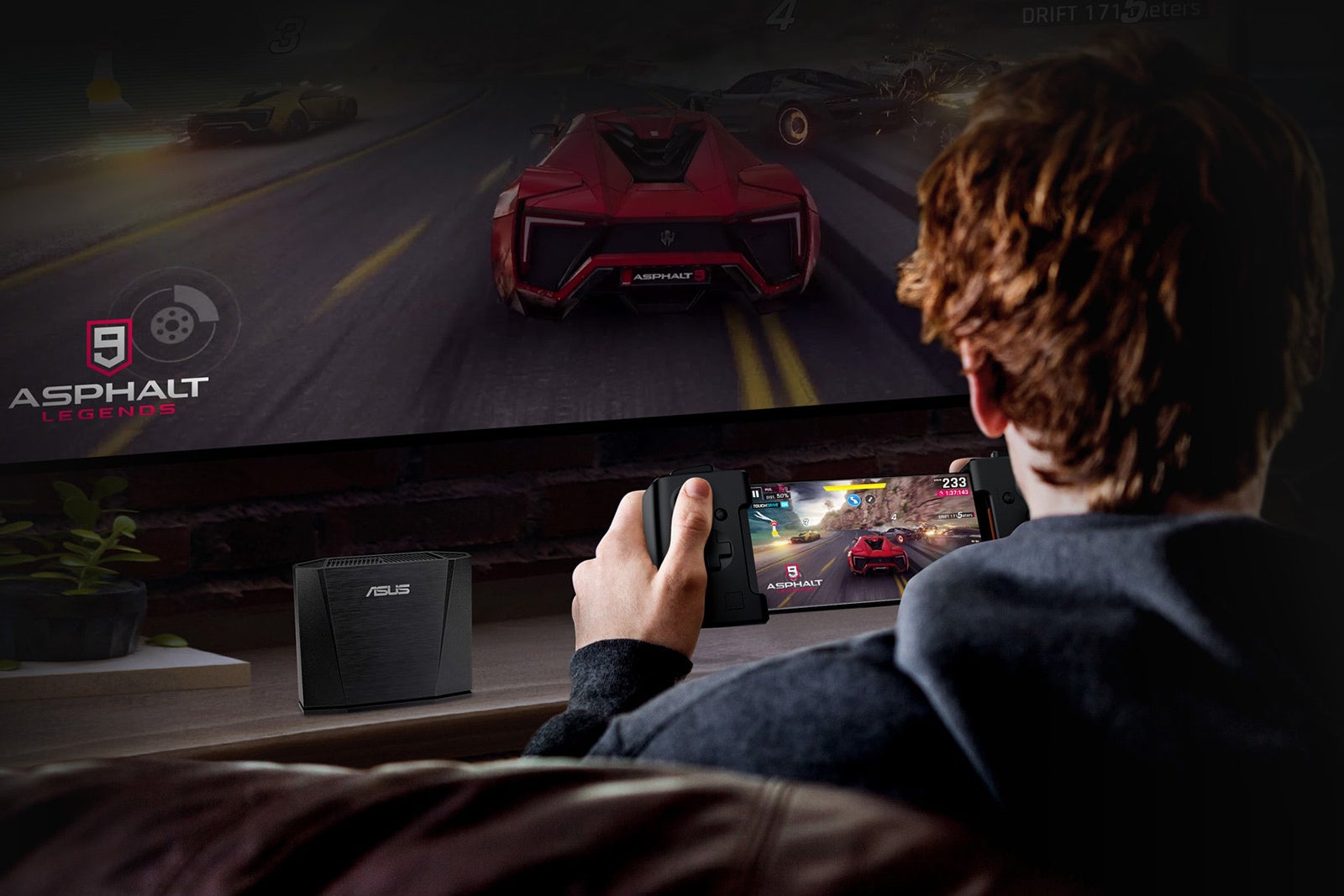 The WiGig Display Dock
The ROG's Gamevice Controller ($89.99) and Aeroactive cooling fan (free with the phone) round out the six, bringing video game console controls and cool, efficient gaming, respectively. To recap, the ROG's accessories can bolster battery life, cool the phone, connect to big screens, convert the phone to an I/O-filled desktop computer, and add console-like controls.
What say you, Razer?
Just the console controller bit? Very well. While we love the ergonomics and many button functionalities on the $150 Raiju Mobile controller, it falls short in one key area – compatibility. For the most part, Asus' Gamevice controller and the Raiju are compatible with the same games, a couple hundred or so, but most big titles are missing from this list.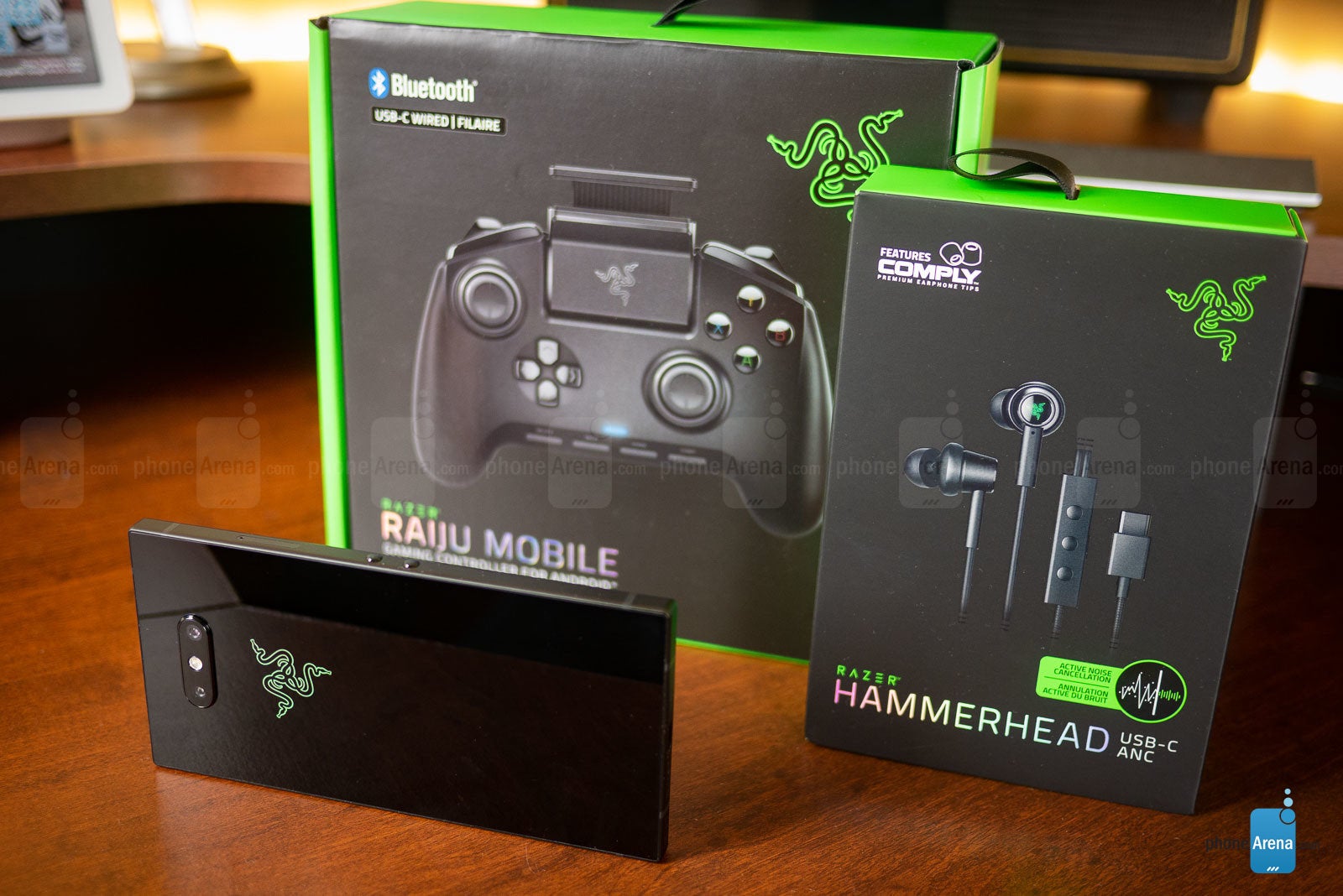 This is where Asus' Air Trigger software really shows its worth. The same drag-and-drop key mapping for on-screen controls found in the ROG's "Air Triggers" menu enables the Gamevice controller to map its controls on
any game
. In the biz they call that a game changer.
We can safely say that the ROG wins this round decisively.
Connectivity
Of course, you'll find requisite features like dual-band Wi-Fi and Bluetooth 5.0 on both of these devices, but the Razer Phone 2 edges out the ROG here with wireless charging, and compatibility with all four major U.S. carriers. The ROG isn't compatible with Verizon or Sprint, and charging currents don't flow through the back of this phone.
Camera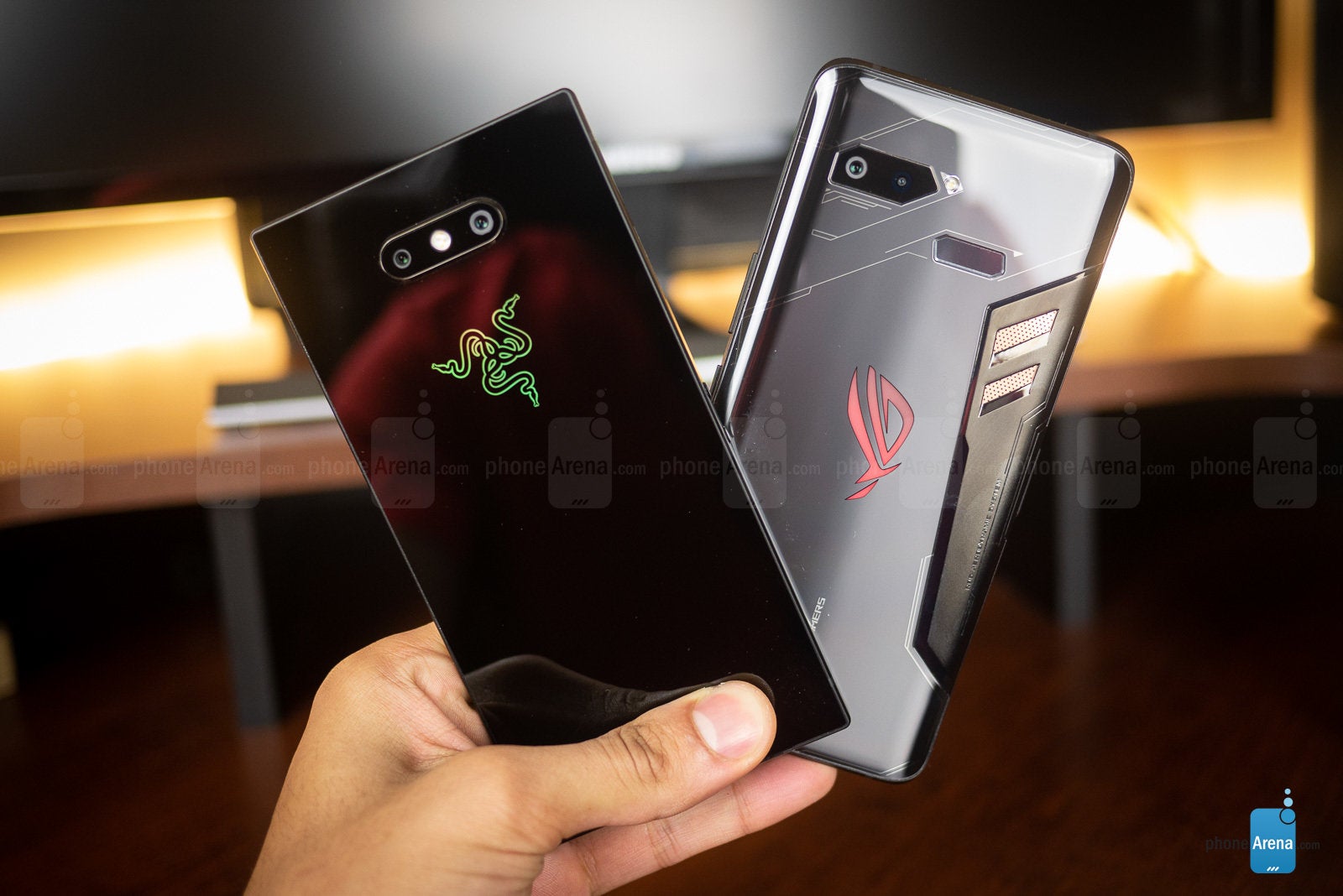 Asus has impressed us with the cameras on more than a few of their recent devices – the ROG included. Here we have a dual-camera setup that pairs a 12 MP regular lens with an 8 MP wide-angle. EIS is used on both, but no optical image stabilization is incorporated.
Razer's overhauled the Razer Phone 2's cameras pretty much entirely from the original Razer Phone in both hardware and software. This year we have two center-mounted, 12 MP cameras. The main camera uses a wider-angled lens and the secondary shooter a telephoto one. Optical stabilization is present on the main camera.
So, what is Razer's more simplistic, revamped camera able to do compared to the refined and feature-rich ROG?
Image Quality
Both of these handsets are capable of taking okay-looking, accurate shots with little effort. More often than not, these are the results we received, but there are areas in which both would sometimes falter. It was actually a bit peculiar, as it seemed that many of the Razer Phone's misses were hits for the ROG and vice versa, almost as if they truly were fated to one day meet for battle.
In brighter lighting situations, the Razer's camera would often wash colors out a noticeable bit more than the ROG. Over-sharpening could also be identified in photos where the ROG had no such issue. In dynamic low-light, though, the Razer Phone 2 typically grabbed more details than the ROG, which could be prone to smoothing and blur. These nitpicks aside, most pictures you take with either of these phones will come out good enough. No "for a gaming phone" qualification necessary.
These two phones really made us work to choose a victor. In the end, we're going to have to call this one a draw as, for the most part, they both shoot pleasing photos but on occasion reveal their specific weaknesses.
Video
Video quality on these two is also quite similar. Both capture up to 4K resolution at 30 fps, but while the Razer's OIS helps smooth things out a bit, both can be prone to more jittery movement than we'd like to see. Much like in photography, the Razer Phone can wash colors out a bit, too. The Razer also records quieter audio than the ROG, and Asus' device picks up more light in darker scenes. It's another close one here, but we'll give the edge to Asus by a hair.
Call

Quality

Calls on both phones showed no glaring issues. The earpieces on these are more than adequate and the speakerphones are quite powerful on both. The Razer Phone 2 does sound slightly less tinny than the ROG's, though.
Media
As gaming phones, the ROG and Razer Phone would be pretty disappointing without a strong media prowess. Luckily, they both have loud, full-sounding dual speakers firing right at your face which easily immerse you in games, music, videos, or otherwise. The ROG does sound a tad tinnier than the Razer, though.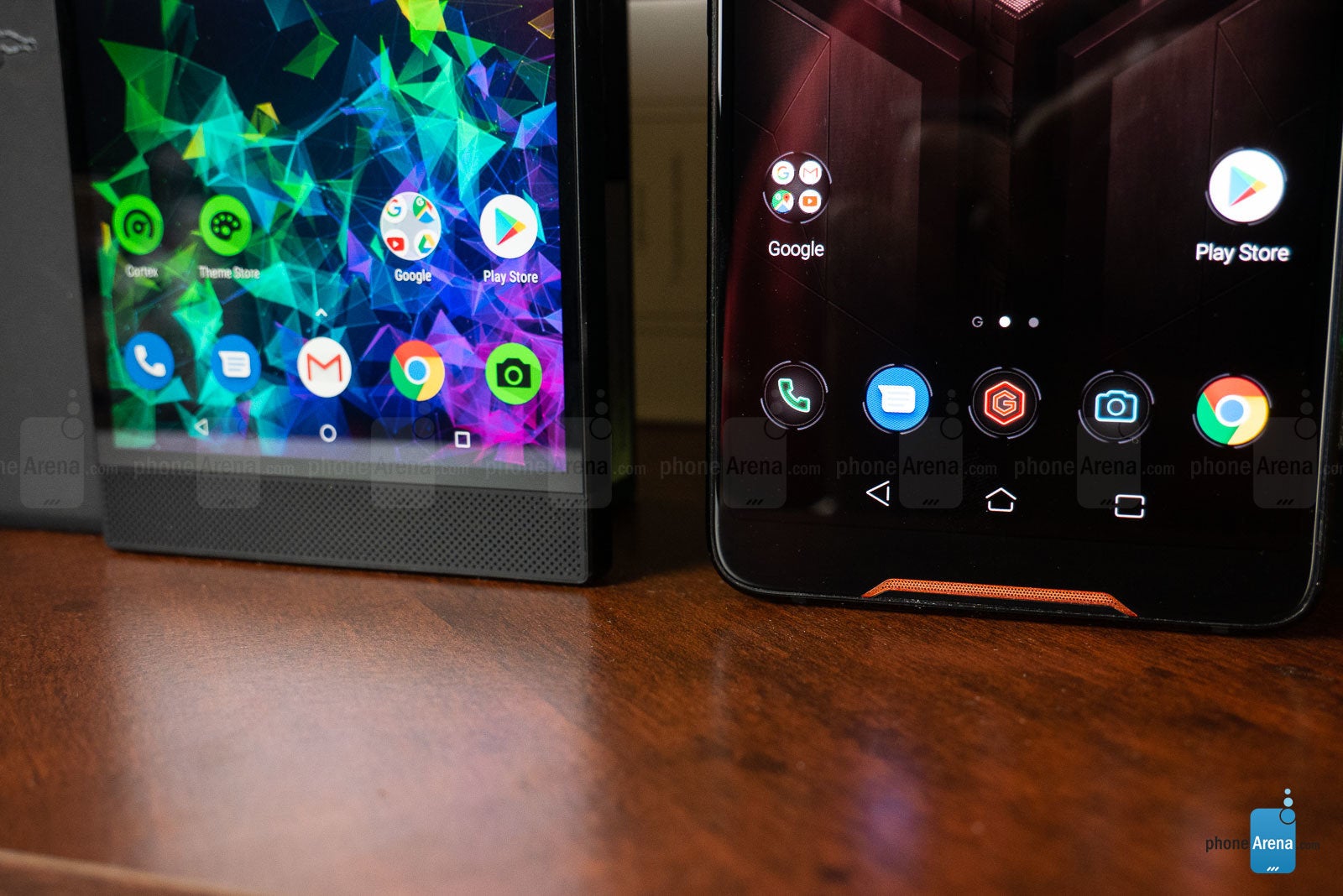 Both phones have dual front speakers
Both deal well with spatial sounds on these dual speakers and both offer in-depth controls to tweak EQ – the Razer's courtesy of Dolby and Asus' from its proprietary Audio Wizard app.
The ROG phone has a 3.5mm headphone jack in both the phone and the included Aeroactive Cooler accessory, but the Razer Phone has no such port, bundling a USB-C to 3.5mm adapter in the box.
Battery

Life

Asus and Razer went with large, 4,000 mAh batteries in these phones but which makes the most of it?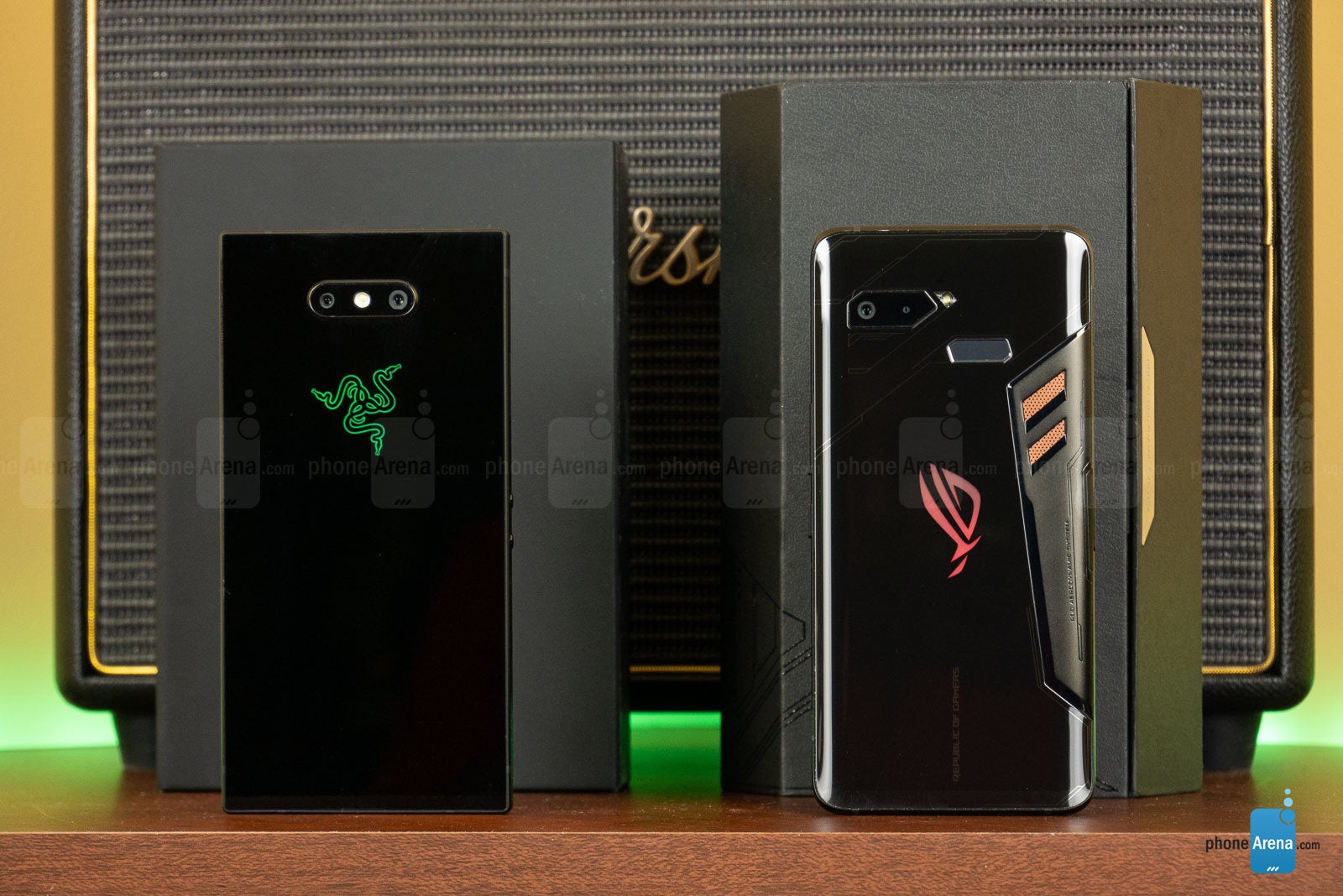 In our use, light, heavy, and even idle, we found the Razer Phone to be more efficient with its battery use but by a pretty small margin. After putting the two phones through their highest- and lowest-power use cases (and everything in between) we usually found the Razer Phone to be one or two battery percentage points higher than the ROG, which can add up. We also observed this slight advantage in our custom drain test, where the Razer Phone 2 lasted about 28 minutes longer, but we wouldn't say that either of these phones are juice sippers.
Both devices are QuickCharge 4.0 certified, but the Razer Phone 2 juiced up from 0 to 100 in about 2 hours – 13 minutes faster than the ROG Phone.
Conclusion
We must say, as mobile fans, it's a beautiful day when we have two great phones to compare against one another, and an even better day when they're gaming phones. Not so long ago, the idea of a "gaming phone" conjured up nothing but high expectations and the inevitable failure to meet them. We can happily and honestly say that neither of these phones failed us in any way.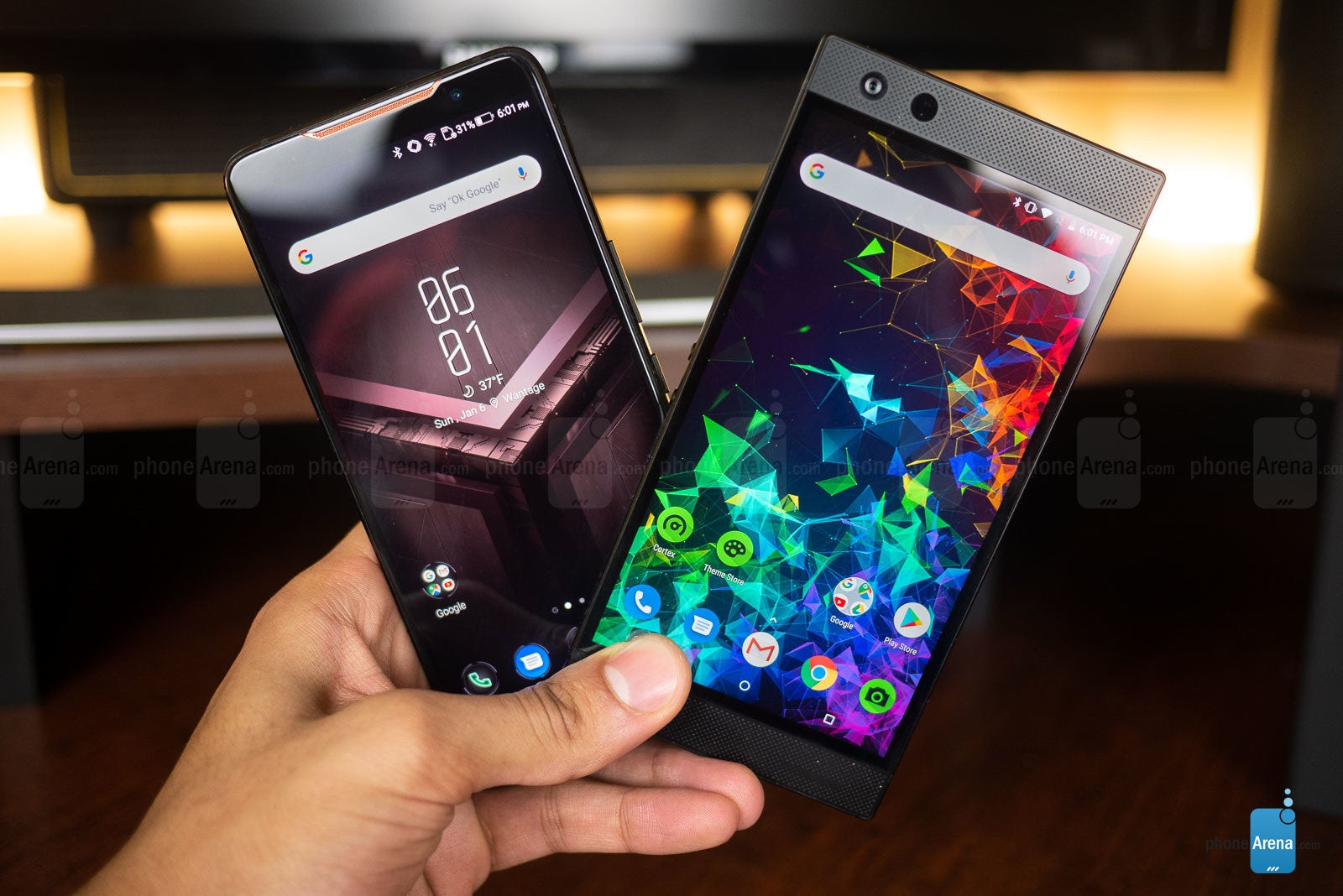 It's a close race between these two – we can't deny that. Performance, battery life, and the cameras on these two phones are neck and neck, so the big decision may come down to just a few gaming features.
For the
ROG Phone
, the biggest selling point for gamers is the multiple accessories which bring fun and functionality and can truly transform the gaming experience – especially with a controller that can map to any game – a huge advantage for the ROG.
On the other hand, the
Razer Phone 2
's buttery 120 Hz refresh rate on an already beautiful display makes us feel right at home gaming for hours on the Razer Phone 2.
As always, preference is key, and it doesn't seem like you can go wrong with either phone, so for now we'll revel in the glory of just having a choice between such capable gaming phones.
Pros
Exceptional display – bright, sharp, accurate colors, and the lovely 120 Hz refresh rate
Less eye strain and fatigue during long periods of gaming
Slightly fuller sounding speakers
LED logo on back doubles as notification light
Pros
Great selection of accessories that expand and improve the gaming experience
Gamevice Controller accessory can be mapped to any game
Larger on-board storage capacities
More unique, refined UI
Helpful in-game dashboard for macros, Air Triggers, streaming, and more