OnePlus 6T or LG V40: which one do you like better?
44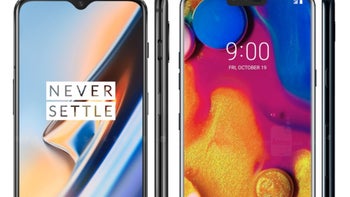 So, the
OnePlus 6T
is here and it definitely did not disappoint. It packs all the cutting-edge hardware you'd expect and is the first mass-produced smartphone with an in-screen fingerprint scanner to be sold in the West.
But hey, OnePlus has a lot of final bosses to defeat before it reaches the top. One of them is LG who, much like OnePlus, also launches two flagship devices per year. The G series in the first half and the V series tablet in the latter part.
LG still struggles with its phones gaining popularity, but they are often called underrated and underappreciated by smartphone fans who manage to spend some time with an LG handset.
Due to slow sales, LG's phones often drop in price fast. OnePlus' handsets, on the other hand, actually launch with an affordable price to begin with. Ultimately, the two meet a few months after both phones have launched.
So, for this poll, we wondered — would you buy a OnePlus 6T, or would you rather wait for the
LG V40
to drop further in price (hint:
you can get it for $700 right now
).