OnePlus hired "stupid men" for a speed test between its 5T phone and Samsung's Galaxy Note 8
27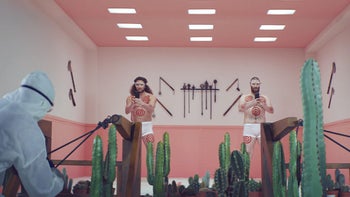 OnePlus never shies away from a little controversy, and that's exactly what we're being served via the company's latest promo video. Titled OnePlus 5 - The Cactus Test, the new video pits the
OnePlus 5T
against Samsung's
Galaxy Note 8
, but it does it in a most unusual way.
As you can see below, the video presents two "stupid men" (OnePlus' words, not ours) who, according to the narrator, are "testing the processing speeds" of the 5T and the Samsung Galaxy Note 8.
One man uses the Galaxy Note 8, while the other has a OnePlus 5T in his hands. They're both under attack by catapulted cactuses - we've no idea why - and the first to open "20 everyday apps" on his phone gets to leave and suffer no more. Unsurprisingly, at the end, OnePlus shows us that the 5T is speedier than the Note 8.
Now, this is not a
scientific
speed test by any means. OnePlus doesn't even say if the Note 8 featured here is the international Exynos 8895 variant, or
the US model
- which is powered by a Qualcomm Snapdragon 835 processor, just like the OnePlus 5T. Nevertheless, in a silly way, this is kind of fun to watch, wouldn't you agree?