Face unlock: who does it best? iPhone X vs Samsung Galaxy Note 8, OnePlus 5T
61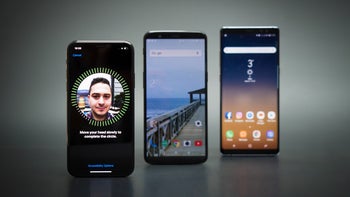 Unlocking your phone with your face has been a thing for quite some time. It has been a part of Android since 2011, when Face Unlock was introduced on the
Samsung Galaxy Nexus
. (Remember that guy?) Alas, the feature was neither secure, nor very reliable, which is probably why it never reached the mainstream popularity that fingerprint scanners achieved over the years that followed.
Yet face unlocking is now gaining traction – not only because the technology has evolved, but also because fingerprint scanners in general are getting less convenient. Growing screens and shrinking bezels have forced manufacturers to move these from the front to the side or back of their products. Or to drop them at all, as Apple did for the
iPhone X
.
But which phone does face recognition best? I was curious to find out, so I gathered an iPhone X, a
Samsung Galaxy Note 8
and a
OnePlus 5T
. Then I registered my face on all three and tested them for reliability in a variety of realistic situations.
The iPhone X, the OnePlus 5T, or the Galaxy Note 8: which does face unlock best?
The first thing I did was to go outside and test the phones in broad daylight. Hardly a surprise, all of them worked without any issues, recognizing my face in an instance. Performance with all was identical, whether it was bright and sunny, whether it was a cloudy afternoon, or whether I was under the shade of a tree in the park.
But issues started popping up soon after I moved indoors. While sitting casually at my desk, I noticed that the Galaxy Note 8 was taking longer than the rest to detect me. Meanwhile, the iPhone X and the OnePlus 5T worked normally. Moving into our photo studio and dimming down the lights made things worse for Samsung's phone. Yes, it still worked, but it needed about a couple of seconds to recognize me.
In complete darkness, the Galaxy Note 8's face unlock feature failed every single try, while the iPhone X and OnePlus 5T still worked without a hint of lag. By the way, the 5T has the option to light up the screen gently in low-light situations to assist with face recognition. We enabled this option during setup.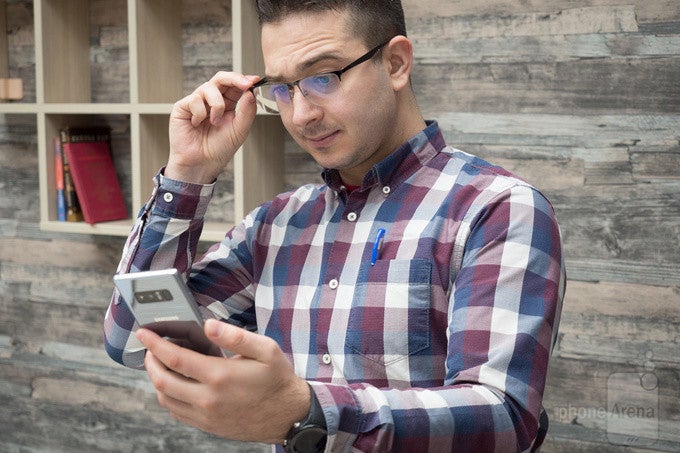 Wearing prescription glasses didn't have much of an effect on any phone's performance. The iPhone X, Galaxy Note 8, and OnePlus 5T all worked reliably outdoors, whether it was sunny or cloudy. And indoors – around the office, at my desk, and in our studio – the Galaxy Note 8 worked fine, though it still lagged from time to time, while the other two phones performed as expected. As before, Samsung's phablet often couldn't recognize me in very dark locations, while the iPhone X and the OnePlus 5T weren't bothered by the glasses I was wearing.
For the record, with the Galaxy Note 8 it didn't matter whether I had registered my face with the glasses on or without them.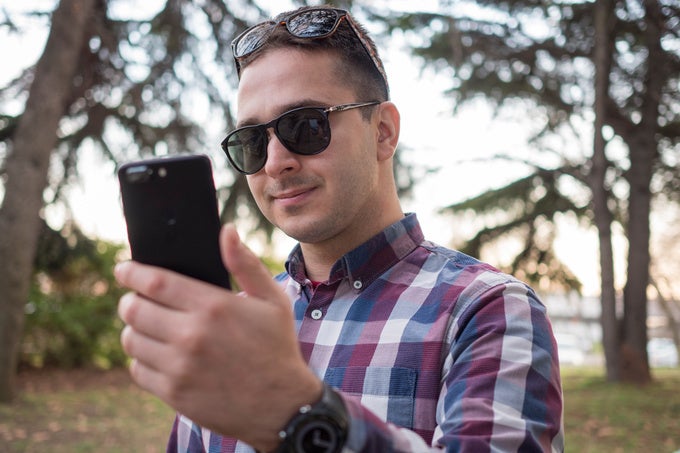 Sunglasses proved a challenge for all three phones
The results were a mixed bag when I tested all face recognition systems with sunglasses on. Sometimes they worked and sometimes they didn't, depending on the amount of ambient light, the angle at which I held them, and whether the sun was in front or behind me. And with all the different types and models out there, it's really hard for us to say which phone's face detection deals best with sunglasses.




But judging by my testing, the iPhone X is best (or not as bad as the rest) at detecting me. It works well with regular sunglasses with no polarization. Photochromic glasses are not a problem either. The only time when I had constant issues with the iPhone X's Face ID was when the sun was behind me and I had polarized glasses on.




With any kind of sunglasses on me, the OnePlus 5T had a low to moderate success rate. Sometimes it recognized me right away, sometimes it needed a second or two, and sometimes it failed completely. I wouldn't call its performance reliable, but at least it was better than the Galaxy Note 8, which doesn't get along with sunglasses at all.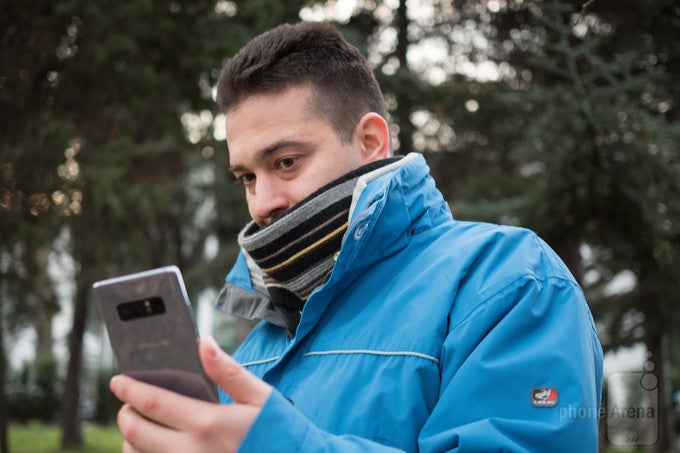 Wearing a scarf was also a hurdle for all three phones, though not as much for the OnePlus 5T. While the iPhone X and Galaxy Note 8 failed to recognize me every time, the OnePlus 5T unlocked normally even when my mouth and nose were covered.
Winter hats, however, didn't interfere with face recognition. Even when my head was covered, all three phones worked normally, without slowdowns.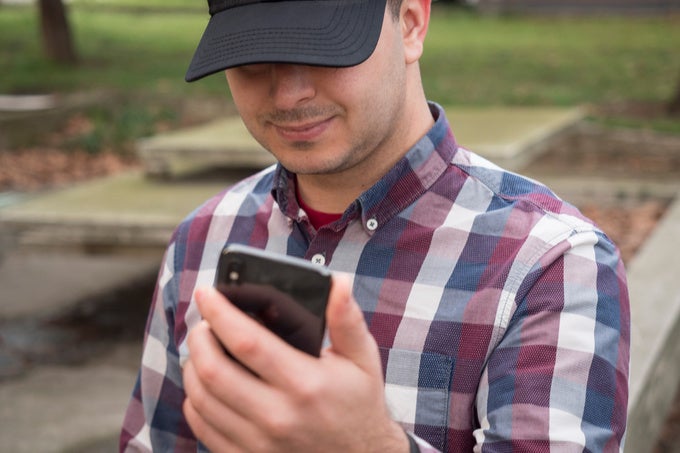 How about baseball caps? Well, these don't affect the performance of the iPhone X's Face ID. The OnePlus 5T worked reliably as well. Unfortunately, the Galaxy Note 8 didn't like it when I had my Voltron cap on, presumably because it was casting a shadow over half of my face.
Conclusion
Samsung needs to step up its Face Unlock game
There are now many phones with facial recognition on board, but they're not all equally good at it. I tested three of the most popular phones that support the feature in one form or another, yet only two of them performed at a level I was expecting – at a level a top-notch smartphone should. These were the iPhone X and the OnePlus 5T.
The iPhone X uses an advanced depth camera and an array of infrared beams to create facial scans in 3D. The OnePlus 5T, on the other hand, simply uses its front-facing camera and software algorithms to recognize faces. Throughout my testing, the iPhone X performed better in some situations, while the 5T excelled in others, but overall, both phones turned out to be generally swift and reliable.
As for the Galaxy Note 8, I was hoping to see better results. The phone's face recognition only works when conditions are optimal, while sunglasses and low light situations proved very tricky for it to deal with. If Samsung plans on keeping the feature for its future phones, it could definitely use some improvement.