Older Apple iPhone users to get chance to install last compatible version of apps
22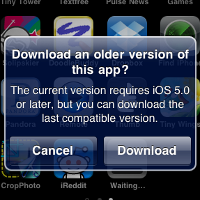 Millions of Apple iPhone users are looking forward to installing iOS 7
when it becomes available later today
. But believe it or not, there are people who own an Apple iDevice that will not get the new update. But Apple does have a consolation prize for those who won't be receiving iOS 7. Those left behind will be able to install the latest compatible version of an app that they want to install on their phone.
In some situations, the software that is compatible will be over a year old. But truthfully, it is better than having to use a version of an app that is even older.
The iOS 7 update will be available for those sporting an
Apple iPhone 4
or later model,
Apple iPad 2
or later version,
Apple iPad mini
and the
fifth generation Apple iPod
. For those whose device won't be joining the iOS 7 party, Apple is still giving you this opportunity to let your device run to the fullest of its capabilities.
source:
Reddit