Note5 model pops up in benchmarks with 3 GB of RAM only, likely headed for Europe
31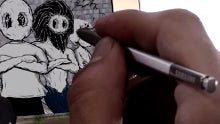 A little birdie apparently told Samsung's focus groups that Europeans are not as much in a love affair with the S Pen stylus, as they are with unique side-sloping flexible displays. This could have been the reason behind Samsung's decision to release the S Pen-laden
Note5
in North America and Asia, while Europe will be getting the stylus-less
Galaxy S6 edge+
, with its 5.7" dual-edge screen panel.
While here in the US the Note5 is already in the loving hands of its early adopters, most of Europe will have the chance to grab an S6 edge+ next week. What about the Note5, though,
will there be a European release
for those eager to start jotting things down on the Quad HD Super AMOLED display? Well, if leaked regulatory filings and benchmarks of a Note5 model, coded as SM-N920F, are any indication, the new S Pen will arrive to Europe, albeit at a later date.
The "F" at the end of model numbers typically denotes a European model of a Samsung handset, and an SM-N920F has already been submitted at the FCC last month, so, given the 180 days confidentiality request for the filing, the phone could land in Europe early next year, as rumored. The fly in the honey, however, is that the SM-N920F model, allegedly the European Note5, recently popped up on Geekbench with the specs you see below, denoting 3 GB of RAM only. Hopefully this is a prototype version, or Geekbench hasn't detected the extra RAM amount that the Note5 carries. Otherwise we'd imaging European users pretty peeved about their Note5 version having 3 GB of RAM, against the 4 GB of RAM for the US carriers' Note5 models.