Note 5 may have new S-Pen functionality: Write on PDF
12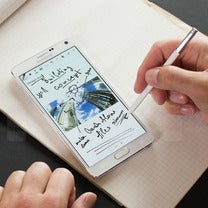 Samsung recently filed a patent application with the USPTO for a feature that allows to edit PDF documents directly on a smartphone screen with your handwriting. The option is called Write on PDF, and apparently consists of "
computer application software for mobile phones, smart phones, tablet computers, portable media players and handheld computers, enabling users to annotate and save PDF documents, images and files
."
Chinese media is reporting that said feature is meant to make a cameo during the September announcement of the
Galaxy Note 5
phablet, hinting that we might see an upgraded S-Pen stylus with new features to be taken advantage of. The Note franchise now has a direct screen write function, but it doesn't encompass PDF files, as you have to first take a picture of them (or use a screenshot for the ones already in), and then unleash your doodling might on the unsuspecting PDF file.
If the Write on PDF feature holds water for the Note 5, it seems that the new phablet will not only have a
premium exterior
and
powerful hardware
, but also some new tricks up its S-Pen silo, too.