Nokia's Stephen Elop strategy is still to be the 'clear winner,' even against Samsung and Apple
88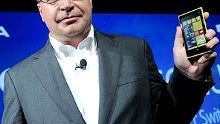 You have to hand it to Nokia's soft-spoken CEO Stephen Elop for quietly completing what seemed an impossible turnaround for the company, taking the bold decision to keep its products unique by adopting Windows Phone instead of the much more popular Android platform. The
last quarterly results showed some signs that the strategy is starting to pay back
, and Mr Elop himself said in an interview the sales keep on being encouraging.
His initial idea with the WP strategy, however, wasn't just to fight for survival, but actually plant the seeds for attacking the top dogs, like Apple and Samsung, and he reiterated that is still in the cards. The way to achieve it:
My goal is that we will eventually be a clear winner. We are having to win.... It will happen when we get more products Lumia 920th It is a product that stands for something that the consumer wants to be. It is different and more and more consumers say 'I love it.'
No doubt about that, and it seems Nokia is poised to address the biggest complaints about the 920, which is its chunky physique with the eventual
Nokia EOS
and
Catwalk
successors, so we'll see what 2013 has in store for the Finnish giant.