Nokia swings back to profit in Q4, closing its toughest year with a glimmer of hope
34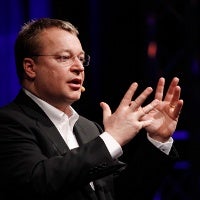 Nokia is back to profit in the fourth quarter of 2012, reporting a healthy €439 million ($585 million) of profits on revenue of €8.04 billion ($10.73 billion).
The growth is still mostly due to profits in its Nokia Siemens Network division rather, but while Devices & Services registered less profits they were finally not in the red. In the preceding in comparison, the Finnish company lost a whopping $754 million.
This Holiday quarter is also Nokia's best one in the long bumpy road since its adoption of Windows Phone as its main platform. Still, for the whole year Nokia has taken a nearly $3 billion loss.
Still, it's hard to say that Nokia Lumia, the company's Windows Phone range, caught traction. Nokia sold 4.4 million Lumias, with only 700,000 in North America. The Lumia 920 with its PureView Phase 2 camera (great for low-light situations) is what pushed Nokia smartphones average selling price (ASP) up to €186 from €140 in the preceding trimester. If we look at the Lumia lineup alone, ASP is up to €192 this quarter.
Nokia has decided not to pay out a dividend this year for the first time in a long while, even though it did register a profit this last quarter. This will allow the Finns to have a stronger liquidity position.
"We are very encouraged that our team's execution against our business strategy has started to translate into financial results.

Most notably we are pleased that Nokia Group reached underlying operating profitability in the fourth quarter and for the full year 2012. While the first half of 2012 was difficult for Nokia Group, in Q4 2012 we strengthened our financial position, improved our underlying operating margin in Devices & Services, introduced the HERE brand to expand our mapping and location experiences, and drove record profitability in Nokia Siemens Networks," Nokia chief executive Stephen Elop said.
source:
Nokia
(PDF)