Nokia's Stephen Elop reportedly on the shortlist for Microsoft CEO
48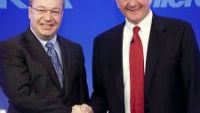 It has only been a few days since Steve Ballmer announced that he would be
stepping down as CEO of Microsoft
one year from now. There has obviously been speculation as to who would replace Ballmer, but Microsoft doesn't have an officially known shortlist for the job. Of course, that doesn't mean that one name is getting far more attention than most: Nokia's Stephen Elop.
Not surprisingly, there are rumors that Elop is on Microsoft's shortlist to replace Ballmer as CEO of Microsoft. Also on the shortlist are Skype manager Tony Bates and former CEO of VMware (and former Microsoft senior executive) Paul Maritz. The report surprisingly also lists Bill Gates for a possible comeback, but that seems pretty unlikely to us.
Other sources have also put Julie Larson-Green, Microsoft's current head of the
newly created
Devices and Studios Engineering Group, as a name on that shortlist. Of course, with a year until Ballmer formally retires, there is plenty of time for rumors and more names to enter the race.