Microsoft chief executive Steve Ballmer will retire within 12 months
53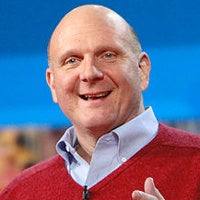 Microsoft chief executive Steve Ballmer will retire in the next 12 months after some 13 years heading the company that makes Windows and Office.
Microsoft was co-founded by Bill Gates back in 1976 and Gates is still the name most commonly associated with the company, but the billionaire is now mostly engaged with humanitarian activity and names Ballmer for his successor in 2000.
Now, Ballmer has announced his decision to retire within 12 months, a time that the company will spend looking for a worthy successor. Microsoft stock has surged on the news.
"There is never a perfect time for this type of transition, but now is the right time," Ballmer said. "We have embarked on a new strategy with a new organization and we have an amazing Senior Leadership Team. My original thoughts on timing would have had my retirement happen in the middle of our company's transformation to a devices and services company. We need a CEO who will be here longer term for this new direction."
Known for his eccentricity, Ballmer will be remembered for managing Microsoft throughout ups and downs - from the Windows Vista fiasco to the fix with Windows 7, then again to the underwhelming Windows 8. The chief executive laughed off the iPhone when it first launched and the company largely missed the mobile revolution and is now struggling to find relevance with its Windows Phone operating system. On the flipside of things, under Ballmer, the pillars of Microsoft grew even stronger as the enterprise became huge reliant on Office and Windows, with Office bringing huge amounts of profits and covering for multi-million dollar failures like the Surface RT tablet.
Just a few months ago Microsoft unveiled a
huge leadership change
. After Windows head
Steven Sinofsky left the company
more than half a year ago,
Julie Larson-Green
seems the most apparent candidate to replace Ballmer at the lead as she recently grew in ranks to head the Windows division. Windows Phone head
Joe Belfiore
seems like another possible candidate.
Who do you think should become the new chief executive of Microsoft?
source:
Microsoft