Nokia sold 4.4 million smartphones in Q4 2017, more than OnePlus, Google, HTC, Sony, and Lenovo
21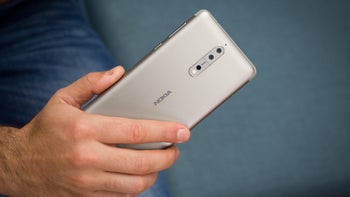 According to data from research firm Counterpoint, 2017 was a very good year for HMD Global and the Nokia brand. The once-domineering Nokia juggernaut fell from the heavens years ago, but under the helm of HMD Global, the beloved phone brand has managed to sell a whole lot of 4.4 million units in Q4 2017 alone. Doesn't sound particularly exciting when you compare it with the stellar sales of Apple and Samsung, but that's missing the point.
As per Counterpoint's data, in Q4 2017 Nokia sold more phones than most of its rivals, including but not limited to HTC, Sony, Google, Alcatel, Lenovo, OnePlus, Gionee, Meizu, Coolpad, and Asus among all others. These sales have propelled Nokia to owning 15% of the feature phone market and 1% share of the smartphone scene; combined, this gives HMD Global and Nokia a 5% share of the total smartphone market, Counterpoint says, which definitely spells good news for the company.
Talking about smartphones performance, in Q4 2017, @HMDGlobal sold more Nokia branded phones globally and is now bigger smartphone brand than following individual brands:

HTC
Sony
Google
Alcatel
Lenovo
OnePlus
Gionee
Meizu
Coolpad
Asus

— Neil Shah (@neiltwitz) February 12, 2018
The most important markets for Nokia in Q4 2017 were the UK, where it's among the three most popular smartphone sellers. However, Nokia's strength really shines when you realize that it's the leading feature phone manufacturer globally and in most European and Middle-Eastern markets which is certainly helping drive those numbers up.
Well, everyone laughed when the new-generation Nokia 3310 was announced a year ago, but nobody is laughing now!
Now that the feature market is secured, HMD Global and Nokia should probably focus on grabbing a larger share of the smartphone market as it's vital for further building a positive brand image and presence. We're yet to see any new Nokia device in 2018, but with MWC being just around the corner, it's logical to expect a few devices, namely the Nokia 9, the Nokia 7, and an LTE-enabled 3310.