Nokia ready to lead the "next wave of innovation", but not with smartphones
25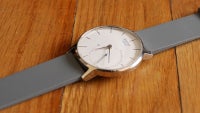 The saga of Nokia's fall from grace and return to consumer electronics continues to branch out into different storylines. To bring you up to speed – since Microsoft bought Nokia's mobile division
back in 2014
, the company gave up the Lumia name, and was contractually obliged to not produce any smartphones until late 2016. Since then, Nokia has launched an Android tablet — the
Nokia N1
— which was met with relative praise by fans, but didn't really become a market disruptor. We've also heard
a lot of rumors
about the company working on a possible Android smartphone,
reported to don the name Nokia C1
. On the flip side, we've also heard reports that the company is
not looking to create the same business model
that it already sold to Microsoft, and is
dabbling with different ideas
. One of the options its looking at is, apparently, wearables — back in October of 2015, the company
amended its papers to include wearable tech
.
Well, Nokia has just announced that it will be buying French company Withings for about $191 million. The latter is a manufacturer of smartwatches, fitness trackers, and other welness-related digital equipment. According to Rajeev Suri, president & CEO of Nokia, the company is taking concrete action to tap into the "large and important" market that is digital health. Ramzi Haidamus, president of Nokia Technologies, added that Withings shares Nokia's visions for health-related gadgets and Internet of Things appliances, and that the acquisition will help Nokia Technologies become a leader in the "next wave of innovation in digital health".
Wearables are, indeed, a hugely untapped market. While there are plenty of manufacturers out there making the little gizmos, there is yet to be a breakthrough device that truly makes users feel the need to buy one. Currently, they are very effective step counters, sleep trackers, and silent notification devices, and are good at filling the niche of dedicated sporty-type users, but there is yet to be a groundbreaking feature to be added to them that will make most users say "Yes, I'd like to spend more than $100 on that". Could Nokia be the one to produce such a device?