Nokia launches Music Plus, a paid music streaming service, updates Music app
4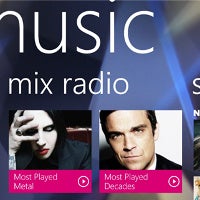 Nokia Music is a better music player than the stock Windows Phone 8 app mostly because of features like the Mix Radio service that is basically a Pandora/Rdio-like music streaming app, but completely free. You can play popular mixes or just use some of your favorite artists to build playlists on the go. You can even save playlists for offline listening.
But there are a few limitations like the inability to skip more than 6 songs in an hour, and you cannot cache too many playlists for offline listening. To completely overcome this, Nokia has now started offering a paid optional feature that would allow you to skip as many songs as you like and cache as many playlists as you want.
The price is 3.99 euro a month or the equivalent in other currencies, and while it was not announced for the United States, we guess the service would cost $3.99 stateside. So overall, this would buy you unlimited offline stations, built-in lyrics and high-def audio over Wi-Fi.
The other new features to Nokia Music are the following:
Never miss a gig again by adding them to your calendar
Purchase tracks and albums using your operator bill (selected operators only)
Start Nokia Music quicker and go back to where you were before
Of these, we are particularly thankful for the faster start-up time for Nokia Music which depending on your handset ranges from slow to eternity. You can update or get the app at the link below.
source:
WP7Connect