Nokia applies for patent on 3D multi-touch interface that measures pressure of your touch
This article contains unofficial information.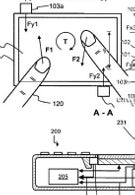 Nokia has been known to come up with some important ideas for mobile communications. Just ask Apple, whom Nokia has
accused of infringing
on 10 patents with each and every iPhone ever sold. Now the Finnish manufacturer has applied for a patent based on a new idea it has for multi-touch pressing on a touchscreen device. Sure, the diagram looks like a football play written out by Knute Rockne, but if you concentrate on what this does, you'll see that it looks like Nokia has a great idea. The concept is that the screen reacts not only to where you touch, but also reacts to how hard you press on the display. The combination of the capacitive screen and the force sensors will know in which direction you are moving your finger and the strength of the touch.
While it could be a long time before we see this technology in a new Nokia device, a harder press than normal could mean that a link is tapped on twice. Or a harder touch could simulate pressing the function key on the keyboard. The potential uses are almost limitless. Hey, you guys in Cupertino, make sure you get a copy of this application!
source:
USPatent&TrademarkOffice
via
UnwiredView