Nokia N8 to get a customized Symbian Anna, bringing continuous autofocus and 30fps HD video capture
12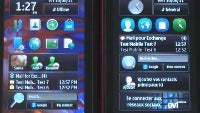 Nokia's camera guru Damian Dinning said that they've been integrating the ability to shoot videos with 30fps and in continuous autofocus mode in the coding of Symbian Anna specifically for the 12MP shooter in the Nokia N8.
These features have been unofficially available as hacks for the N8, and the continuous autofocus, which allows you to point the camera near and far in the same video without losing focus, has been available in the
CameraPro app
in Ovi Store. Damian Dinning, however, said that they wanted to do these right, squeezing every bit of possibility out of the already excellent camera sensor on the Nokia N8.
The funny fact is that the Finns obviously needed the code in the next version of Symbian - Anna - for these official upgrades of the 12MP camera capabilities. Thus, when the Symbian Anna update hits, it will bring not only eye candy, which you can see in the embedded long video demo below, but also additional functionalities to the Nokia N8. Nokia is
on a roll today
, and this news is certainly going to make some Nokia N8 owners happy.