CameraPro helps your N8 fulfill its photographic destiny
1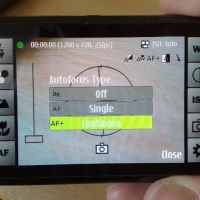 The
Nokia N8
, despite its power and features, is an oft-
overlooked
device. Maybe it has something to do with the age-apparent Symbian OS, or the paltry Ovi Store. But that doesn't change the fact that the N8 is one of the finest cameraphones on the market. With a 12-megapixel Carl Zeiss lens, and a strong toolbox of settings from the factory, one would think that the N8 was ready to roll.
But Tequnique would disagree. They've developed the CameraPro N8 app, that adds a number of features for the serious shutterbug, or the customization-obsessed. First and foremost, CameraPro adds constant autofocus to video capture, which was a sorely missed feature on the stock N8, and essential to capturing closeup videos.
The other key feature of CameraPro, is that it allows you to capture raw photos, which use no JPEG compression, allowing you to take large pictures in full detail. The results, however, are hard to distinguish. The stock Nokia photos, although significantly compressed, are often nearly identical to the CameraPro images that occupy four times as much memory.
CameraPro also adds enhanced digital zoom, bringing it from the stock 2x to a whopping 11x. The increased zoom won't improve your photograph, but it will give you a clearer picture of the subject from the
N8's display
.
So should you get the CameraPro N8 app? The app is currently all sorts of buggy, but if you're all about options, then it's certainly worth a try. And if you're a professional
photographer
, this might make your N8 a more viable backup if your primary camera fails.
source:
All About Symbian
via
IntoMobile