Apple and Nokia settle for an undisclosed amount
24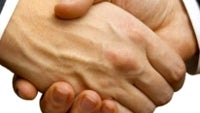 Apple is now in the clear regarding
Nokia's patent lawsuits
, since it just settled for a
one time lump sum
, as well as ongoing
royalties
for some of the mobile phone patents that Nokia is holding, for the term of the agreement.
Nokia's demands ranged from touch user interfaces, through multitasking, data syncing, signal noise suppression, positioning and on-device application stores, for all of which it has had patents before Apple introduced the iPhone in 2007.
Nokia has maintained a huge R&D department for two decades now, spending on it about $3 billion a year on average for that period. The Finns have filed for and been granted more than 10 000 patent families, so this is a win for Apple as well, since it's hard not to infringe on such a broad array, if you are in the mobile business. Now it's time for Google to hurry up with the
bidding for Nortel's patents
.
The juiciest part of the deal - the cash amount, as well as the royalties settlement - remain "
confidential
", but Nokia just issued a press release that both parties have
withdrawn their counterclaims
with the International Trade Commission (ITC):
"
We are very pleased to have Apple join the growing number of Nokia licensees. This settlement demonstrates Nokia's industry leading patent portfolio and enables us to focus on further licensing opportunities in the mobile communications market.
", clarified Nokia's CEO Stephen Elop.
This sentence in the press release is a head-scratcher: "
This agreement is expected to have a positive financial impact on Nokia's recently revised outlook for the second quarter 2011 of around break-even non-IFRS operating margin for Devices & Services."
Why issue a
dire profit warning
, sending your share price in the doldrums when you know that your stock will receive a nice little boost in just two weeks from settling a huge patent litigation case with a cash-rich company like Apple? After all, the Finns knew this was coming when
the ITC sided with Nokia against Apple
in April. We should know more next month when Nokia releases its quarterly, but Nokia's share price will probably do well today. Now who bought call options betting on a turnaround in the last two weeks?